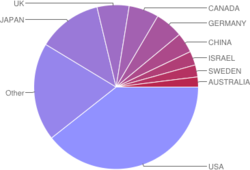 Artificial intelIigence and robotics grows globally.
Gloucester, MA (PRWEB) February 26, 2013
Representatives of Computer Review today announced that the level of news in the Artificial Intelligence and Robotics Sector of the global knowledge economy has gone off the charts. Computer Review provides original source material on topics ranging from 3-D satellite payloads to web-crawling robots. Imagine a service that cuts out 95% of the noise in the AI and robotics sector and gives subscribers precisely the information they want.
This is news because Computer Review is the comprehensive one-stop resource of the global knowledge economy. Subscribers tune-in to the artificial intelligence and robotics sector to generate sales leads in aeronautics, track favorite companies in telecommunications and promote the cause of wearable technology in the marketplace.
With Computer Review's online database, subscribers discover the barely touched legal studies of Artificial Intelligence or debate the growing concern about "group think" in social media. Computer Review points subscribers to blogs about robots and the law, our assisting machines and the ethics of security technology. The artificial intelligence and robotics sector is a combination of many industries and interests bursting with news, opinions and information. Computer Review's information indexing is rock solid. Subscribers can find knowledge at their fingertips -- original source material.
The highly technical and specialized nature of artificial intelligence and what sources say is an utter lack of communication between the fields makes an intelligent global knowledge source all the more valuable. When companies within the US don't communicate with each other, who knows what's going on at companies on the other side of the globe. Fully two thirds of Computer Review's source material comes from places outside the US, from Australia, Canada, Japan, China and the UK to name a few. Secondhand information and hearsay can't match the power of original source material.
Computer Review's ActiveTrak™ system monitors thousands of companies in hundreds of countries every day. Subscribers enjoy unlimited access to new material and daily updates on sensitive projects like WASP, MS Touch-sense Technology and the surveillance industry. Computer Review provides detailed material on everything from computer platforms to military mine detection. New developments in markets for computer vision software are monitored. In these days of global knowledge, the interactive, user-friendly chart that Computer Review provides represents a tremendous value.
When robots run cameras, unmanned vehicles, aircraft, design projects and products, subscribers need quality information just to understand the technology. They must understand the AI and Robotics culture if they want to make informed decisions. They need much more information than the average researcher can glean from a web search. Computer Review's directory and on-line database presents solutions because it separates the clutter from the average web search and provides important source information. Today's fast paced business environment is always in flux. A company in Canada develops a UAV autopilot board overnight, while a motorcycle company in Japan researches a digital to analog interface for their bike seats -- a project with systems on top of subsystems.
Computer Review's source materials are invaluable in understanding environments everywhere. Computer Review provides the latest information from the knowledge economy for subscribers like College Universities as well as Government and Corporate Libraries. The company directory and online database at Computer Review offer solutions that save subscribers 95% of the time they would have spent otherwise.