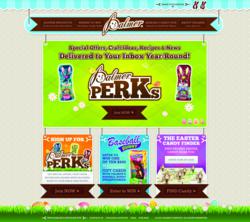 Our fresh look and new website is designed to give our customer the same fun experience online as they get when they enjoy a piece of Palmer chocolate.
Reading, PA (PRWEB) February 26, 2013
R.M. Palmer Company, long recognized as the maker of America's favorite holiday candy, has recently reinvigorated its brand and online marketing efforts with a new consumer-centric website, updated logo, and an expanded social media presence. Inspired by Palmer's mission of "Making Candy Fun" for their customers, these new initiatives are the most ambitious marketing efforts seen in the company's 65-year history.
"The Palmer name is synonymous with seasonal candy," said David Abramson, Director of Sales & Marketing for R.M. Palmer. "We want to get that message out to today's consumer in a way that captures the same fun experience a customer has when enjoying a piece of Palmer chocolate." In order to achieve that goal, Abramson continues, "Palmer must expand our online presence to help candy lovers everywhere find, engage and interact with the Palmer brand online."
Features of the new Easter-themed website include The Candy Finder, which directs the user to the nearest retailer carrying Palmer products (from nearly 80,000 US retail locations); Palmer's Easter Candy page, designed to help visitors search through dozens of new and vintage Palmer products; and an expanded Fun Stuff section, which will offer visitors access to promotions, games, crafts, recipes and other interesting content. In addition to these new features, Palmer has also launched Palmer Perks, a new loyalty program where consumers can receive special offers, exclusive content, coupons and more. Membership to Palmer Perks is free.
On the social media side, Palmer's new Pinterest page is loaded with boards inspired by Easter, springtime, chocolate and more. Facebook will also be a major part of Palmer's social media strategy, so fans should be on the lookout for fun posts, contests, videos and games.
About R.M. Palmer Company
R.M. Palmer Company has been crafting fun, seasonal chocolate novelties since 1948. Today, the R.M. Palmer Company is considered one of the top 75 confectioners in the world. From their headquarters in West Reading, PA, Palmer's 850 dedicated employees design, produce, package and ship more than 500 unique products to nearly 100,000 retail locations in North America – making it one of America's largest and most innovative confectioners. For more information about R.M. Palmer Company, visit http://www.rmpalmer.com.