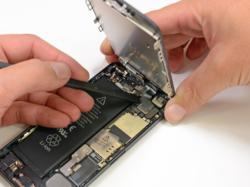 The worth of understanding how everyday things are made like a smartphone may escape some readers, but the article can be valuable to appreciate how the world's economies are intertwined with each other
New York City, New York (PRWEB) February 26, 2013
Amidst the popular cry that Apple is bleeding Americans of employment in these trying times when it ships out thousands of manufacturing jobs to China, the article "Hello World: The Economics of iPhone" published by FinancesOnline.com shows that American manufacturing is not dying; rather it is shifting to a more specialized role in the global supply chain.
To understand where the shifts are happening within the value chain, the article follows how iPhone 5 is made:

The A6 brain, engineering blueprint, design plan, crystal panel and marketing from the US
Rare earth minerals from Inner Mongolia
LCD panels from Japan, Korea and Taiwan
Gyroscope from Europe
Chipsets and battery from the heart of enemy territory: Samsung's plant in Korea
And all parts put together in China
It seems troubling to note that Asian factories outgun American plants in manpower and size, and the article highlights what Apple has been saying as China's and other Asian factories' main advantage: not cheap labor, but the economics of scale where a plant can add or subtract hectares of assembly line at a whim. But reading between the lines, America is shown to have an upper hand, its innovative spirit and ingenuity. The article tries to inspire readers to remember this national trait that has created the world's most advanced nation.
Beyond the nationalistic angle, the article also offers a peek at how the world has shrunk from a planet of nations divided by borders, into one global factory with each country specializing in and competing for a niche to stay in business.
The worth of understanding how everyday things are made like a smartphone may escape some readers, but the article can be valuable to appreciate how the world's economies are intertwined with each other. A political unrest or economic fall-off in another country may mean a delay or cancellation of an online order. Staying in one little corner and learning one skill is no longer a viable career move, the implied warning in the article.That the competition can be a partner and a partner a competitor, staying in business, as the article points out, is more complicated than ever.
Find more details in the Hello World: The Economics of iPhone article at FinancesOnline.com explaining why the iPhone model may be America's manufacturing future based on ingenuity, as the article zeroes in on the highly specialized role that American companies play in the global supply chain.