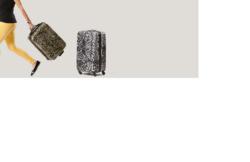 "Snow Leopard" or "Golden Leopard", both prints are absolutely appealing to the eyes.
Kent (PRWEB UK) 27 February 2013
Customers may already be acquainted with the hard sided range of suitcases –The Zygo. Revelation has now designed and created the Animal Print range. The range will be available in March 2013.The suitcases speaks for themselves by just looking at the design. These cases are designed for the bold and individual traveller.
The tough ABS construction provides the strength of an animal while the classic embossed finish brings assured durability. The range offers two animal prints of either "Snow Leopard" or "Golden Leopard", both prints absolutely appealing to the eyes. The cases are designed with both a top handle and a side handle which helps with easy lifting to place in the boot of the car, roof rack or the luggage trolley, etc., and of course along with its locking trolley system, making it easy to control while maneuvering. The large cases are designed as spinners, which seem to be getting more and popular with travellers.
Andy Steadman, Managing Director of Luggage Superstore comments, "The team predicts that these suitcases would be a favourite among women and it would give them a way to express strongly their bold and adventurous side as an individual."
The suitcases are definitely a head-turner and would most certainly be spotted easily on the baggage conveyor belt. Any traveller should be proud to own one of these cases and walk proudly through the airport in genuine style.
Luggage Superstore's established site is in West Kingsdown, Kent. Their aim is providing competitive prices of the highest quality luggage and top calibre Customer Service for online luggage shopping. Luggage Superstore recommends Antler.
Trina Chee-a-kwai
Luggage Superstore
01474854666
Email Information