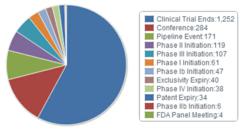 (PRWEB) February 26, 2013
BioPharm Insight's monthly Catalyst Monitor analyzes the most material events in the sector during the upcoming month. The Catalyst Monitor tracks significant events and announcements such as US Food and Drug Administration (FDA) approvals, Advisory Committee meetings and expected key clinical results.
Zogenix's Zohydro ER (hydrocodone bitartrate extended release) for pain faces an uphill battle for an FDA nod if the agency considers a need for a tamper-resistant formulation. In December 2012, an Advisory Committee voted 11-2 against approval due to abuse potential. One expert interviewed noted the decision gives the FDA leeway to issue a Complete Response Letter asking for a reformulation.
Biogen Idec's BG-12 (dimethyl fumarate) has high chances of getting the go-ahead in the US for relapsing-remitting multiple sclerosis (RRMS). Initial uptake will be incremental, due to the lack of long-term safety data, but the oral drug is likely to gain eventual status as a first-line RRMS treatment.
Despite scrutiny for cardiovascular concerns, Johnson & Johnson and Mitsubishi's canagliflozin is widely expected to be approved in type 2 diabetes. An FDA decision is expected by 29 March. If approved, it would be the first SGLT-2 inhibitor in the US.
Depomed's Serada (gabapentin extended-release; G-ER) in hot flashes will be discussed by an FDA panel on 4 March. Approval is warranted despite the Phase III program narrowly missing a number of endpoints. According to experts interviewed by BioPharm Insight, the drug has demonstrated an improvement in frequency and severity of hot flashes and is a valuable treatment.
Other catalysts in March include:

FDA advisory meeting for GlaxoSmithKline and Theravance's Relvar (flucticasone furoate/vilanterol), also known as Breo, in chronic obstructive pulmonary disease
Phase III results for Daiichi Sankyo's anticoagulant edoxaban
AEterna Zentaris' interim results for perifosine in multiple myeloma
EMA decision for Curis' basal-cell carcinoma drug Erivedge (vismodegib)
Novo Nordisk's Phase III type 2 diabetes data for IDegLira (degludec/liraglutide)
Threshold Pharmaceuticals' Phase III PFS futility analysis for TH-302 in soft-tissue sarcoma (STS)
Ziopharm Oncology's Phase III palifosfamide results in STS
Learn how BioPharm Insight can help you find new business opportunities by starting a free trial today.
About BioPharm Insight
BioPharm Insight is the definitive guide to the global biopharma community. BioPharm Insight provides subscribers with an information edge by combining the most comprehensive real-time database of companies, drugs, contacts, M&A and licensing deals, forecasts and clinical trial data with proprietary forward-looking intelligence uncovered by an independent team of investigative journalists months or even years before it breaks in mainstream media. To learn more, visit http://www.biopharminsight.com. Follow BioPharm Insight on LinkedIn and Twitter.
About Infinata, Inc.
Infinata provides personalized technology solutions to turn information into insight. Services include a comprehensive BioPharm Solutions Suite, unique Wealth Prospecting tools and innovative Custom Data Services. Infinata is a part of Mergermarket, a Financial Times Group company and a division of Pearson plc. To learn more, visit http://www.infinata.com.