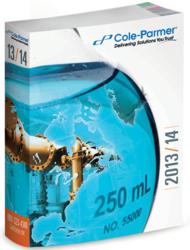 Vernon Hills, IL (PRWEB) February 25, 2013
The new 2013/14 Cole-Parmer® Sourcebook combines the best of both for scientists, manufacturers, and purchasing managers. From conversion factors to regulatory agencies and approvals to selection guides, the catalog is packed with reference material to make buying—and using—products easier. The 2,640-page book also contains thousands of laboratory and industrial process offerings for fluid handling, water quality, research and biotech, and more.
Many new technologies are also featured in the Sourcebook. The Masterflex® L/S® Precision Modular Drives allow users to place the motor and controller where convenient. A reversible motor also adds to its versatility. The Shuttle™ Portable Ultra-Low Temperature Freezer provides energy-efficient ultra-low temperature storage anywhere. Weighing approximately 40 lbs and including a DC power cord, this freezer is ideal for field use. The PH-1 Module for the iPhone®/iPad®/iPod® can be used to convert an iPhone into a pH meter. This handy device offers automatic and manual temperature compensation. The PBI SHREDDER SG3™ System safely and efficiently prepares samples in a closed system. It is ideal for extraction of DNA, RNA, protein, mitochondria, and small molecules.
Find these and many other innovative items in the 2013/14 Cole-Parmer® Sourcebook. To request a free copy, call 800-323-4340 or visit ColeParmer.com/19797.
Cole-Parmer has been a leading global source of laboratory and industrial fluid handling products, instrumentation, equipment, and supplies since 1955. Our product lines, including popular brand names such as Masterflex®, Oakton®, and more, are sold through company-owned customer channel outlets and a strong network of international dealers. We also feature an ISO-17025-accredited metrology lab for instrument calibration and repair. Cole-Parmer responds with excellence to customer needs, and offers application expertise and technical support. For more information, contact Cole-Parmer, 625 East Bunker Court, Vernon Hills, IL 60061. In the US, call 800-323-4340. International customers, call 847-549-7600. Visit us at http://www.coleparmer.com.