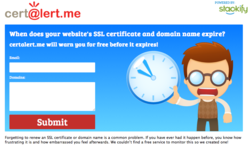 CertAlert.me is just another way Stackify helps developers monitor their applications.
KANSAS CITY, Mo. (PRWEB) February 25, 2013
Today, Stackify, a provider of remote application monitoring and troubleshooting tools, launched CertAlert.me as a free service to monitor websites and alert their owners before secure socket layer (SSL) certificate or domain name expires.
When IT administrators register for CertAlert.me, they'll receive an instant domain report and subsequent periodic email reports about the status of their SSL certificates and domain names.
"Most companies have SSL certificates and domain names, but typically nobody is directly responsible for them. They fall in a gray area," said Matt Watson, Stackify's founder. "Unfortunately, forgetting to renew SSL certificates is a common problem; in fact, it's happened to me before. You buy them, install them and forget about them."
Since launching in 2012, Stackify's team has enjoyed using the popular Microsoft Windows Azure platform. When the cloud platform experienced downtime on Friday due to Microsoft's expired SSL certificate, Stackify decided to try and fix this common certificate renewal problem that affects organizations across the globe each day.
"We couldn't find any services that monitor and alert you before your SSL certificates expire," Watson said. "So we decided to solve the problem and offer it as a free service to IT administrators. CertAlert.me is just another way Stackify helps developers monitor their applications."
Stackify recommends utilizing CertAlert.me not only for organizational websites, but also third party services or websites that companies use and depend on.
"Today, applications often rely on third parties," Watson said. "CertAlert.me can ensure those services are working - mitigating negative effects on enterprise applications."
To sign up for Stackify's new free SSL certificate monitoring and alert service, visit CertAlert.me.
Stackify
Founded in 2012, Stackify is a Kansas City-based software service provider that helps development teams manage, monitor, and troubleshoot their production applications. Stackify solves a wide spread problem of giving developers the right amount of access and tools they need to production server environments. The startup has already been recognized as "Hottest Kansas City Startup" by Tech Cocktail, a "Company to Watch" by Software Development Times and a "Company to Watch in Silicon Prairie" by Entrepreneur Magazine, MSN's Business on Main and Silicon Prairie. To learn more, visit http://www.stackify.com and follow @stackify on Twitter.