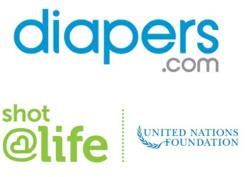 Parents now have a way to help provide vaccines to children around the world while shopping for their baby
Washington, DC (PRWEB) February 27, 2013
Today, the United Nations Foundation's Shot@Life Campaign, which helps expand access to life-saving childhood vaccines, and Quidsi, Inc., owner and operator of Diapers.com, the premier website for fast delivery of everything baby; announced a unique donation initiative. Through the Diapers.com "Refer-a-Friend Program," shoppers will be able to provide Shot@Life with up to $45 in donations to help immunize children in developing countries by referring friends to the Diapers.com family of sites.
"With Diapers.com and Shot@Life, parents now have a way to help provide vaccines to children around the world while shopping for their baby," said Devi R. Thomas, Director of the UN Foundation's Shot@Life campaign. "Through the Refer-a-Friend program, more parents than ever will be able to share the power of vaccines with friends and help give children in developing countries a shot at a healthier life."
Every customer on Diapers.com has a unique Refer-a-Friend code and can choose to have their referral credits donated toward a good cause, such as Shot@Life. The more customers that share their code with friends, the more donations that go to help vaccinate children around the world.
"Diapers.com wants to help give as many parents as possible a chance to enjoy all the precious moments that come with parenting," said Vinit Bharara, Co-founder and COO of Quidsi. "That's why connecting Shot@Life with the Diapers.com Refer-a-Friend program is such a perfect fit. The more people that share Diapers.com with their friends, the more they can help others. It's that simple."
Vaccines are one of the most cost-effective ways to save lives around the globe. Giving a child in a developing country lifetime immunity from four of the world's most deadly diseases — pneumonia, diarrhea, polio and measles — costs only $20. Protecting a child from measles and polio is only $5. This means that four referrals as part of the program between Diapers.com and Shot@Life gives one child full immunity.
To take part, visit: https://www.diapers.com/helpcenter/referafriend.qs
# # #
About Shot@Life
Shot@Life educates, connects and empowers Americans to champion vaccines as one of the most cost-effective ways to save the lives of children in developing countries. A national call to action for this global cause, the campaign rallies the American public, members of Congress, and civil society partners around the fact that together, we can save a child's life every 20 seconds by expanding access to vaccines. By encouraging Americans to learn about, advocate for, and donate vaccines, the United Nations Foundation's Shot@Life campaign will decrease vaccine-preventable childhood deaths and give children a shot at a healthy life. To learn more, go to ShotAtLife.org.
About Diapers.com and Quidsi, Inc.
From diapers, wipes, formula and baby food to cribs, car seats, clothing and strollers, Diapers.com has your favorite baby products and brands, all delivered right to your door. So you can spend more time with baby, and less time at the store.
Quidsi owns and operates Diapers.com (baby care), Soap.com (everyday essentials), BeautyBar.com (luxury beauty), Wag.com (pet supplies), YoYo.com (toys), Casa.com (home & houseware essentials), Vine.com (green goods), AfterSchool.com (kids gear) and Bookworm.com (children's books). All nine easy-to-navigate sites are linked together by the Familyhood promise to make life a little easier with fast, free shipping on orders over $49, award-winning 24/7 customer care and one shared cart and checkout. Quidsi continues to redefine e-commerce by changing the way people shop for almost every part of their lives.
About the United Nations Foundation
The UN Foundation, a public charity, was created in 1998 with entrepreneur and philanthropist Ted Turner's historic $1 billion gift to support UN causes and activities. The UN Foundation is an advocate for the UN and a platform for connecting people, ideas, and resources to help the United Nations solve global problems. We build partnerships, grow constituencies, mobilize resources and advocate policy changes to support the UN's work for individual and global progress. The UN Foundation's work — focused on select global problems — is decreasing child mortality, improving disaster relief, protecting diverse cultures and environments, creating a clean energy future, empowering women and girls, and improving U.S.-UN relations. For more information, visit http://www.unfoundation.org.