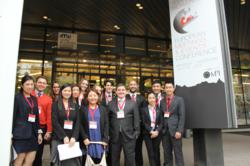 This partnership is an exceptional opportunity for our students to gain invaluable, first-hand experience in one of the most exciting fields in hospitality. They will be ambassadors for Switzerland and for Les Roches within MPI
Bluche (PRWEB) February 26, 2013
Les Roches International School of Hotel Management has been selected by Meeting Professionals International (MPI), an association of more than 21,000 meeting and event professionals representing 86 countries, to join in a partnership with its "Future Leaders" program. Les Roches International School of Hotel Management is the only Swiss and hotel management school among 20 major European management schools chosen by MPI.
The partnership allows up to three students from each of the 20 partner schools to attend the most prestigious events taking place in Europe throughout 2013, including the IMEX-MPI-MCI Future Leaders Forum in Frankfurt. Les Roches students will gain real-world experience in all aspects of event organization, from logistics, transportation, and restaurants to translation and lodging.
"This partnership is an exceptional opportunity for our students to gain invaluable, first-hand experience in one of the most exciting fields in hospitality. They will be ambassadors for Switzerland and for Les Roches within MPI, and will receive VIP treatment in their discovery of the world of event management," said Sonia Tatar, CEO of Les Roches. "All of our programs require training experience in relevant industries and prepare students to face the challenges and address the needs of their job market."
An increasing number of professional events of all types are organized every year in Europe. To keep up with the growing demand, event agencies are recruiting highly qualified young professionals. The events management industry is a significant and highly attractive business area. It is large– approximately $100 billion total revenue across the globe—and it is growing at an average of 6.2% globally since 2003 (1) . Tapping into these trends, Les Roches introduced an event management specialty as part of its Bachelor of Business Administration program in early 2012. The academic content and teaching modules for this concentration were developed in collaboration with professionals in event management, including Simon Graveling, the director of the agency that organized the opening ceremony of the London Olympics. More than 30 students are currently enrolled in this specialty.
(1)-The Events Industry White Paper, by AMR International and DeSilva+Phillips, 2008
Press contact: Alexia Robinet
Public Relations Manager
Phone: +41 (0)79-3108193
Alexia(dot)robinet(at)laureate(dot)ch
About Les Roches International School of Hotel Management
Les Roches International School of Hotel Management is a private Swiss Institution which offers undergraduate, graduate and post graduate programs. Les Roches is accredited at university level by the New England Association of Schools and Colleges, Inc. (NEASC) (http://www.neasc.org) and offers programs in the fields of hospitality, tourism, event and entertainment management. Nestled in the Swiss Alps at 1,274 meters in the small village of Bluche, just a few minutes drive from the famous ski and golf resort of Crans Montana, Les Roches offers to its international student body a young and dynamic educational environment, perfect to mature and gain experience to start an exciting and diverse professional career. Les Roches students have the possibility to transfer to / from Les Roches banch campuses and affiliated campuses in Spain, China and Jordan (Les Roches International Hotel Management School, Marbella, Spain; Les Roches Jin Jiang International Hotel Management College (LRJJ), Shanghai, China and The Royal Academy of Culinary Arts (RACA), Amman, Jordan). For more information, please visit: http://www.lesroches.edu. Les Roches is part of Laureate Hospitality Education, a leading hospitality management education group (http://www.laureatehospitality.com).