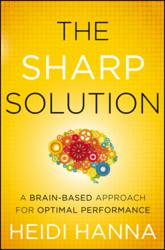 Hoboken, NJ (PRWEB) February 28, 2013
Despite the fact that our personal energy is our most valuable resource, most of us fail to manage it efficiently. We know what we should be doing to create an optimal life by eating better, exercising regularly, sleeping more, taking time to relax, and having balance in our life. However, why is it that these activities always seem easier said than done?
According to SYNERGY CEO and founder Heidi Hanna, PhD, the key to sustainable behavior change is to align the heart and the brain. Her book, The Sharp Solution: A Brain-Based Approach for Optimal Performance (Wiley; ISBN: 978-1-1184-5739-9; Hardcover & E-Book; $15.95) offers The Sharp Solution, a five phase program that has shown to help relax the body, quiet the mind, and reduce symptoms of stress imbalance.
Hanna entered the field of psychology to better understand how her own mind operated. She struggled with depression and anxiety at an early age, and began experiencing panic attacks at age 12.The strategies she shares in The Sharp Solution helped her to overcome personal challenges including the fear of flying and public speaking. Hanna now has a career that requires her to do the things she dreads the most. However, by using brain training techniques, she is able to share her experiences in hopes to help those struggling with similar obstacles.
Research suggests that age-related cognitive decline begins in healthy, educated adults when they are in their 20s and 30s.Hanna constantly stresses the importance of taking time for yourself, "Making sure that you take time to keep your brain sharp is one of the primary responsibilities you have each day."
Working with an inside-out approach, The Sharp Solution program begins by fostering the brain to heart, mind, body, and community. Readers will learn the critical components of brain health that provide a foundation for improved cognitive functioning throughout the lifespan, understand the power of mental and physical training to stimulate energy, and create an actionable plan for implementing a sustainable brain fitness program that can be applied to everyday life.
Hanna explains that by engaging the brain, people can strategically re-wire how they operate, creating more energy and improving productivity while simultaneously reducing stress. As a result, people become more focused and productive, flexible and resilient, and able to sustain higher levels of health and performance over time. These critical aspects of cognitive fitness—mental strength, flexibility, and endurance—allow for ultimate daily function and growth.
With constantly increasing demands on time and energy, it's easy to fall into the trap of multitasking - functioning in a state of survival rather than thriving. This mental overwhelm takes a toll on our "human capital"- decreasing focus and attention, creativity and innovation, resilience and overall engagement.
The Sharp Solution offers the following to combat stress:
-Nutrition "power foods"
-Getting the most from your mini-workouts
-Tips for a more restful night sleep
-How to stress less in the midst of a stressful climate
-Simple brain exercises with real world application
Stress has proven to play a major role in health concerns including heart disease, diabetes, cancer, stroke, and dementia. As a way to prevent these life altering illnesses, Heidi Hanna's mission is to encourage society to build a healthier brain and more effective operating system to lead more fulfilling personal and professional lives.