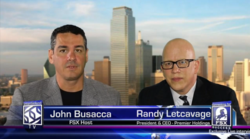 Dallas, Texas (PRWEB) February 26, 2013
During the recent the FSX Investment Conference held in Dallas, Texas, Premier Holding Corporation CEO, Randy Letcavage, granted an exclusive interview for InterlinkedTV, an on demand web channel dedicated to entrepreneurs and investors.
During this exclusive interview, available only on InterlinkedTV, Letcavage stated that Premier Holding is a holding company focused on green energy and clean tech and expanded on Premier´s management team.
Premier Holding is assembling a comprehensive array of companies to provide the entire range of products and services in the energy management field. Specifically: technologies and services for deregulated power, energy generation, and energy conservation, bundled together with continuous support through energy management and information systems, targeted to commercial middle-market companies, Fortune 500 brands, developers and management companies of large-scale residential developments.
Premier Holding Corporation provides strategic management, as well as financial support, which includes access to capital, financing, legal, insurance, mergers, acquisitions, and joint ventures.
The complete interview is available only on InterlinkedTV.com.
About Premier Holding Corporation and InterlinkedTV
Premier Holding Corporation is a Nevada corporation that is a Parent Holding Corporation with an operating division, Energy Efficiency Experts ("E3") an energy integrator of products and services. More information at prhlcorp.com
InterlinkedTV is an internet video production and distribution site dedicated to Entrepreneurs and Investors. We feature education, public and private companies, venture capital news, and investment events. This content is exclusive and cannot be found anywhere else. We give our members and viewers a unique chance to meet the CEOs and executives of high growth companies. For more information go to InterlinkedTV.com & Interlinked.com