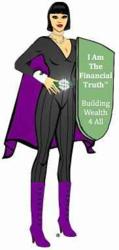 T.F. Truth is your own personal cheerleader as you build wealth in your life and work to improve your financial situation. She is committed to helping you make smarter financial choices and follow through on the goals you set for yourself
(PRWEB) February 25, 2013
Carla J. Cargle, Founder and CEO of The Financial Truth announces to the world today the face of her new brand, T.F. Truth, the financial superhero. Truth's mission is to teach individuals how to think wealth, manage their money, save, and overcome life's financial challenges.
Truth was first introduced in Cargle's latest book, "The Financial Truth: The Road to Wealth Begins with You". The superhero, dressed the part with a shining money symbol on her belt, claims she is "The Financial Truth" sent out on a mission to build wealth for all. She appears periodically in the book, providing commentary and encouragement as individuals make commitments to improve their financial situation. At the end of the book, Truth saves a man from an onslaught of crabs trying to drag him to the depths of the financial black hole and pledges to do the same for everyone else.
"T.F. Truth is your own personal cheerleader as you build wealth in your life and work to improve your financial situation. She is committed to helping you make smarter financial choices and follow through on the goals you set for yourself. She is truly the financial hero," says Cargle.
"The Road to Wealth Begins with You" is Cargle's third book. It is part of a 3-book series titled the Financial Truth. The first book is self-titled "The Financial Truth" and the second is "Your Mind, Your Mouth, and Your Money".
The mission of the series is to:
1. Assist individuals in building a solid financial foundation
2. Help individuals develop a spiritual relationship with money
3. Empower individuals to accumulate wealth and achieve financial goals
"I want to provide people with an easy-to-follow, step-by-step process to building and sustaining a healthy financial state. The road to wealth is easier than you think and the best thing you can do for yourself is shield yourself with knowledge against financial pitfalls. This book gives you that knowledge, helps you assess your financial state, and creates a plan for you moving forward. The best part….T.F. Truth is there for you every step of the way" says Cargle.
To find out more about all of T.F. Truth's superpowers, visit our website http://www.carlacargle.com.
About Carla Cargle and T.F. Truth
Carla, a Financial Advisor, Author and Professional Speaker, has committed her life to economically and financially empower the community. She is a graduate of Hampton University in Hampton, VA. She has been a practicing Financial Advisor since 1992.
In 2002, Carla founded Genesis One Wealth Builders, a Financial Advisory Firm with an emphasis on Retirement Planning and Corporate Financial Education Training.
As an Advocate for Economic and Financial Empowerment across the country, Carla is a frequently featured television and radio guest throughout the United States, and has been featured in national publications.Carla serves as a featured Financial Contributor for Houston's major television networks. She has served as a Judge for the Miller Coors Urban Entrepreneurial Business Plan Contest since 2008.
Carla is the author of "The Financial Truth" ™ book series and the National Urban League's nationally acclaimed Economic Empowerment program entitled, "Know Your Money". Programs written and taught by Carla have impacted over 1 Million Americans since the year 2002.
Carla hosted the internationally applauded internet talk radio show; "The Financial Truth with Carla Cargle" on the VoiceAmerica network in 2007 reaching listeners around the world.
Carla is a member of the National Association of Insurance and Financial Advisors where she has served on the Board of Directors, Houston chapter. In addition Carla has been a qualifying member of the Million Dollar Round Table. She is featured in the 2007 inaugural edition of Who's Who in Black Houston. Carla is celebrated with awards and honors throughout her community.
Preview the new E-Book!
Sign up to receive Carla's Wealth e-Inspirations. visit http://www.carlacargle.com
Cargle available for interviews.