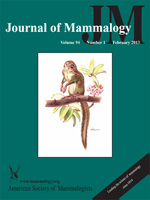 Lawrence, KS (PRWEB) February 26, 2013
Journal of Mammalogy – Where nearly 2 million of the world's most northern antelope, the saiga, roamed just 20 years ago, today there are fewer than 60,000. The saiga, a medium-sized antelope native to arid and desert ecosystems of Europe and Asia, is now internationally recognized as a critically endangered species. Understanding factors of survival during the first year of life can help conservationists reverse the rapid decline in the saiga population.
The Journal of Mammalogy presents a study in which Mongolian saiga calves in the Sharga Nature Reserve were monitored during their first year. Newborns were captured, weighed, fitted with an expandable radio collar, and released over a 3-year period. With an average handling time of just 5.3 seconds, no mortalities occurred from being abandoned by the mother after human handling.
Approximately 5,000 to 7,000 Mongolian saiga exist, a threatened subspecies within the larger saiga population. The variable climate and the mountainous terrain limit the range of Mongolian saiga. Its calving period occurs much later in the year and in a more condensed period of time than in other populations of saiga. Almost 80 percent of Mongolian saiga calves are born within one week.
Radiotelemetry was used to quantify survival rates and causes of mortality of saiga calves in western Mongolia. These factors are a high priority for conservation of saiga. Most deaths occurred during the first 2 months of life. The most common cause of death was predators, with raptors such as eagles and vultures accounting for more than 60 percent of saiga calf deaths each year of the study. Foxes were the second most common predator, causing 38 percent of saiga calf deaths in the final year of the study.
Overall, researchers found that male sex or single rather than twin births did not significantly improve rates of survival. This study showed that environmental conditions such as summer drought and harsh winters resulted in fewer twin births—usually a common occurrence among saiga calves—thus affecting the birth rate.
Some traits among saiga work to their advantage for population recovery. These include early female reproductive maturity at 8 months, large newborns relative to female body size, frequent twinning, and long reproductive life spans of up to 12 years for females. With the additional assistance of enhanced protection from conservationists, some saiga populations in Mongolia and Kazakhstan have started to rebound in recent years.
Full text of "Factors affecting survival and cause-specific mortality of saiga calves in Mongolia," Journal of Mammalogy, Vol. 94, No. 1, 2013, is available at http://www.asmjournals.org.