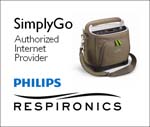 What Price is Your Freedom Worth?
Houston, Texas (PRWEB) February 27, 2013
SIMPLY GO! That's the motto of oxygen patients today with the advent of portable oxygen concentrators. In the past being prescribed oxygen was a sentence to remaining in your home teetered to a stationary oxygen concentrator. Today that same oxygen patient can see the world and not miss a breath.
As people became more mobile, it became apparent that a better way was needed to provide portable oxygen other than through a tank system. To answer that need manufacturers developed Portable Oxygen Concentrators or POC. Today, there are Portable Oxygen Concentrators manufactured by Phillips Respironics, Chart SeQual, Inogen, Devilbiss, O2 Concepts and Invacare. With the development of the Portable Oxygen Concentrator, an oxygen user is no longer tied to your tanks; simply plug in the Portable Concentrator and anyone is free to go where they want. All portable oxygen concentrators sold by Sleep Restfully, Inc. have been approved by the FAA for use on commercial aircraft.
Portable Oxygen Concentrators usually can be plugged into a vehicle's DC adapter, an AC outlet and will run on battery power. They will also work on dual voltage meaning that anywhere in the world you travel your portable oxygen concentrator will work. The battery life is dependent on whether it is a Phillips Respironics, SeQual, Inogen, Devilbiss or Invacare Portable Oxygen Concentrator and if it is dispensing oxygen by pulse dose or continuous flow. Additionally the size and weight of a Portable Oxygen System will depend on the manufacturer.
Philips Respironics, the manufacturer of the world renowned EverGo portable oxygen concentrator has added the Philips Respironics SimplyGo to their product offerings. It is the first continuous flow and pulse does system that is small enough to carry over your shoulder. Weighing only 10 pounds the SimplyGo Portable Oxygen Concentrator will provide 2 LPM continuous flow or up to a pulse setting of 6. Prior to the introduction of the Philips Respironics SimplyGO the smallest portable oxygen concentrator weighed approximately 18 pounds and attached to a wheeled cart for mobility.
When deciding on which Portable Oxygen Concentrator is best, the first question that needs to be answer is whether a pulse dose or continuous flow system is required. This is something that will need to be discuss with the physician. Generally, the difference is:

Pulse Dose Oxygen System - delivers oxygen intermittently as the user breaths. A volume (or bolus) of oxygen is delivered as the user inhales in milliliters per breath.
Continuous Flow Oxygen System – provides oxygen continuously in liters per minute (LPM) regardless of the breath taken. Most POC systems will produce 3 LPM of continuous flow with the exception of the small light weight Philips Respironics SimplyGo which provides 2 LPM in continuous mode.
If it is determined that the oxygen user would benefit from continuous flow oxygen there is no better choice than the Philips Respironics SinplyGo Portable Oxygen Concentrator.
There are positives and negatives to each type of Portable Oxygen System available which is why it is best to discuss your particular needs with a physician. Sleep Restfully provides a Portable Oxygen Concentrator Comparison Chart on their website to let shoppers see a side by side comparison of the Portable Oxygen Devices Sleep Restfully has available.
Sleep Restfully, Inc. places customer service and satisfaction as its highest priority to sleep therapy and oxygen customers. Sleep Restfully, Inc. believes that they are second to none in customer service, which is reflected in their decades of experience and their Better Business rating of "A". Sleep Restfully carries a complete line of sleep therapy supplies and equipment from the best manufacturers in the industry, such as Resmed, Philips Respironics, Fisher & Paykel, and others. In addition to CPAP machines and supplies, Sleep Restfully specializes and carries portable oxygen concentrators. Sleep Restfully offers the best support and prices on portable oxygen concentrators such as the Philips Respironics SimplyGo, Philips Respironics EverGo, Sequel Eclipse 3, Inogen One G3, Invacare XPO2, and more. Stationary oxygen concentrators are also carried, such as the Respironics EverFlo and Invacare Perfecto.
Sleep Restfully stocks all replacement parts for CPAP machines, CPAP masks, and portable oxygen concentrators.
Contact Sleep Restfully, Inc. today toll free at (866) 923-2727 or by visiting http://www.sleeprestfully.com.