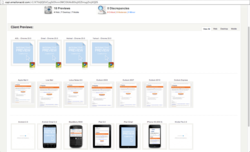 I now use Pinpointe's email campaign preview and spam checker for every email campaign I design. It's easy and intuitive to use, and has helped to measurably improve our email response rates. -- Eryn Branham - Branham Marketing Group
Santa Clara, Califorrnia (PRWEB) February 26, 2013
Pinpointe, a leading Cloud-Based Email Marketing Company, announces the immediate availability of Pinpointe's Email Campaign Preview tool and spam check for mobile and desktop email clients – a comprehensive solution to help mid sized business, including retail and ecommerce sites, improve email campaign response rates and email marketing ROI.
Pinpointe continues its leadership as the most feature-rich, cloud-based email marketing solution available. Campaign Preview renders and verifies email designs for optimal display across more than 50 mobile and desktop clients, including iPad and Android devices. Improved renderability and correct HTML code directly improve email response rates.
Campaign preview compliments Pinpointe's Email Spam Score analyzer – which runs the email through a spam filter and provides simple to understand recommended changes to reduce the email's 'spam score' and improve inbox placement.
Email Design Challenge
Email clients are full of nuances. For example, Gmail and Outlook support less than 50% of valid HTML code. People also read emails on a wide range of devices, from large desktop monitors to mobile devices. This makes designing an email that will display correctly in when it hits the inbox, extremely challenging.
Pinpointe's Email Campaign Preview
Pinpointe's email marketing features help marketers improve results:
Preview Unlimited Email Designs
Preview HTML email designs in over 50 email clients before sending. Our cloud-based services render all your previews with 100% accuracy in less than a minute.
Display Correctly on All Clients
Pinpointe analyzes your HTML email code and gives detailed feedback on incompatibilities and rendering issues and provides corrected code.
Disable Images
75% of email clients block images by default. Email designers can see exactly how their email will display with images blocked and improve their design accordingly.
Become an Expert
Learn from our library of email design tips and tricks. We've documented tons of quirky nuances that you might encounter when developing your HTML email. Details and work-a-rounds are provided for each email client.
Pinpointe Improves Email Results
Improving your email deliverability is the #1 way to increase your ROI. Pinpointe's inbox preview and simple to use spam checker help customer achieve better email marketing results by diagnosing email display, client compatibility and spam content issues.
Free Email Marketing Trial
Customers can experience all of Pinpointe's email marketing features, including Campaign Preview. Visit http://www.pinpointe.com/15-day-free-trial for a free trial.
What Sets Pinpointe Apart?
Pinpointe solves the unique needs of mid-market, B2B, and digital agencies with scalable, feature-rich, cloud-based email marketing. Pinpointe, a "Business Class" email-marketing vendor, closes the emerging gap between email marketing and marketing automation needs.
About Pinpointe
Pinpointe's affordable, cloud-based email marketing platform empowers B2B marketers to target and personalize their email communications based on their prospect's actions and previous responses. Pinpointe's email marketing helps marketers stay in touch with their prospects and deliver more quality opportunities to the sales team. Pinpointe can be reached at: http://www.pinpointe.com or by calling +1-408-834-7577.
Reviewers, bloggers and media can coordinate a free account and / or a personal live demo by contacting sales -at- pinpointe.com or by calling +1-408-834-7577.