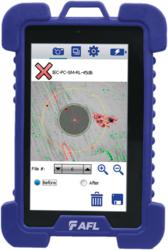 Designed for field inspection tasks, FOCIS PRO is a powerful, easy-to-use alternative to existing inspection solutions.
Lowell, MA and Spartanburg, SC (PRWEB) February 27, 2013
AFL introduces the family of NOYES FOCIS PRO automatic fiber inspection solutions that provide network personnel with an automated solution for analysis and documentation of fiber connector cleanliness and integrity, thus completely eliminating the subjective aspect of fiber inspection. Designed for field inspection tasks, FOCIS PRO is a powerful, easy-to-use alternative to existing inspection solutions. Because the optical resolution and detection specification exceed current international standards, and software-based applications are upgradeable, FOCIS PRO solutions are future-proof.
"As network vendors pursue higher data rates associated with the substantial growth in data traffic, the demand for exceptional performance of network systems is becoming more and more crucial," explained Bill Thompson, marketing director for AFL's test equipment division. "Simply stated, it is imperative that fibers are clean and free from defects. AFL's FOCIS PRO system delivers a solution that supports these demanding requirements."
The FOCIS PRO System consists of the DFD1 Touchscreen Tablet, the DFS1 Digital FiberScope and the new SimpleView™ PRO software. Capable of centering a fiber image, identifying critical core, cladding, adhesive and contact zones while detecting and tallying the types of defects found, this software analyzes a typical fiber in under five seconds. Its Zoom/Pan feature combined with a large, clear display enables users to identify the smallest particles, scratches and imperfections.
Unique to FOCIS and FOCIS PRO products is the patent-pending paired image feature which allows users to make immediate fiber cleanliness comparisons. With the FOCIS PRO, users can capture and save up to 1,000 fiber images, review images on-site and share images via USB memory sticks or SD flash cards. All FOCIS units can be upgraded to the functionality of FOCIS PRO.
FOCIS PRO is the most advanced NOYES fiber inspection product on the market, and only FOCIS PRO combines automatic analysis, inspection and reporting features with superior handheld ergonomics.
For more information about AFL, its products and services, visit http://www.AFLglobal.com.
About AFL
AFL provides industry-leading products and services to the electric utility, broadband, communications, OEM, enterprise, wireless and transit rail markets as well as the emerging markets of oil and gas, mining, nuclear, avionics, medical, renewable and intelligent grid. The company's diverse product portfolio includes fiber optic cable, transmission and substation accessories, outside plant equipment, connectors, fusion splicers, test equipment and training. AFL's service portfolio includes market-leading positions with the foremost communications companies supporting inside plant central office, EF&I, outside plant, enterprise and wireless areas.
Founded in 1984, AFL is proud to offer engineering expertise, exceptional products and reliable service that help our customers improve their critical and electrical infrastructure. AFL has operations in the U.S., Mexico, Europe, Asia and the South Pacific. The company is headquartered in Spartanburg, S.C., and is a wholly-owned subsidiary of Fujikura Ltd. of Japan. For more information, visit AFL's website.