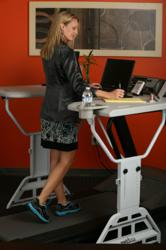 American workers are increasingly sedentary and the health risks of remaining motionless throughout the day are profound.
Scottsdale, AZ (PRWEB) February 26, 2013
Research presented recently to the American Heart Association's Scientific Sessions shed new light on the economic impact of acute coronary syndrome (ACS) on employees and employers. ACS is a catch all term describing instances when blood supplied to the heart muscle is suddenly blocked (e.g. heart attack, angina, chest pain). Sedentary work environments have been shown to increase the likelihood of heart attacks among employees. TrekDesk Treadmill Desk offers an alternative to inactive deskbound activities by allowing employees to walk slowly during the day while they work.
Utilizing data from the integrated Benefits Institutes' Health and Productivity Benchmarking Databases and IMS Lifelink researchers were able to analyze more than 37,000 employee/dependent medical records from 2007-2010, 77% were male and 95% were under the age of 65.
Due to ACS annual health care costs per employee, inclusive of out of pocket expenses, were $8,170. 92% of this amount was for hospitalization and the remaining balance were drug related costs. Employees with ACS lost on average 60.2 days of work during episodic events and 397 days of work over an extended period.
Employers estimated per claim productivity loss for short term disability averaged $7,943 and $52,473 for long term disability claims. Proposed interventions to decrease these costs included smoking cessation, weight loss, diet, and pharmacotherapy for high cholesterol and high blood pressure. Not one mention was given to the need for continual movement through out the day, an intervention strategy shown to have profound benefits in the prevention of ACS and other health maladies.
"American workers are increasingly sedentary and the health risks of remaining motionless throughout the day are profound," stated Steve Bordley, CEO of TrekDesk Treadmill Desk. "Previous studies have shown that allowing an employee to walk a minimum of 10,000 steps per day could reduce their risk of an initial heart attack by 90%. It seems logical that allowing employees to move throughout the day represents an intervention strategy that could lower the incidence of ACS among employees"
Designed to fit any existing treadmill, TrekDesk treadmill desk is an affordable, full sized, height adjustable workstation that allows individuals the opportunity to gain the necessary amount of exercise daily to maintain health, reduce stress, prevent disease, strengthen muscles, boost mood and productivity, without requiring additional time during the day or extra motivation. Wondering how to workout at work? TrekDesk offers the solution.
TrekDesk is currently available for sale online at http://www.trekdesk.com.
Join the TrekDesk "Movement Revolution" to learn more, win a free TrekDesk or ask any health related questions anytime at http://www.facebook.com/trekdesk, or follow TrekDesk on twitter http://www.twitter.com/trekdesk.