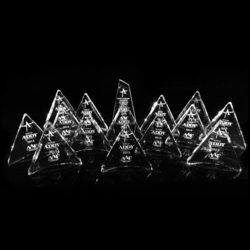 Lightning Strikes Twice For Lexington Kentucky Advertising Studio
Lexington, KY (PRWEB) February 25, 2013
When you hear the word "Oculus," you probably don't think of advertising, but two Lexington, Kentucky residents are on a mission to change that. Oculus Studios wracked up 35 wins at this year's Lexington AAF (American Advertising Federation) awards show, on Friday night (2/22), including the prestigious Ralph Gabbard Television Excellence Award. The awards are attributed to a range of services, including web design, commercials, motion graphics, radio, and print. This is the second year Oculus has attended, however both times the company walked away as the most awarded company overall and in golds. This is also the second year in a row they received the Ralph Gabbard Television Excellence award. Beyond just local, last year Oculus won multiple regional golds and was the only company to receive a national Addy from Lexington.
Oculus Studios, a boutique ad firm nestled in the heart of Lexington, Kentucky, is led by Brock Smith and Whit Bussey. In only three years since Oculus' inception, the team is creating waves in the local market and showing that bigger isn't always better.
AAF Lexington is the 60+ year old Lexington, Kentucky chapter of the prestigious American Advertising Federation. Their mission is to foster, promote and maintain high ethical standards in advertising, to expand the recognition of advertising as a profitable business tool.
AAF Lexington is affiliated with the AAF 5th District which includes Kentucky, Ohio and West Virginia.
Follow Oculus:
http://www.OculusStudios.com
http://www.Facebook.com/OculusStudiosKY
http://www.Twitter.com/OculusStudiosKY
Oculus Studios Vimeo