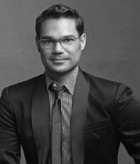 Miami, FL (PRWEB) February 27, 2013
Recognized for his market knowledge and his sharp negotiating skills on behalf of sophisticated buyers and investors, J. "Eddy" Martinez continues to be the exclusive Downtown Miami and Miami Beach Realtor for the prestigious Haute Living Real Estate Network. This elite circle of leading real estate agents brings opulent estates and über-luxurious condominium homes to Haute Living readers. As a select member of this Network, Haute Living Magazine will feature Eddy as an exclusive Haute Living real estate professional.
Haute Living Real Estate Network specializes in tapping the region's top real estate professionals in order to create the most renowned directory of exclusive listings. The Network website is an online destination for all things real estate related and features daily blog posts providing up-to-date news and information on affluent markets and real estate developments. Access all of this information and more by visiting http://www.hauteliving.com/hlrn.
About J. Eddy Martinez
Tapping into the multi-national appeal of Downtown Miami and Miami Beach, J. "Eddy" Martinez has successfully built a track record of real estate success both locally and internationally for sellers, buyers and investors of luxury condominium properties. An avid admirer of art, interior design, architecture and culture, Eddy has a keen sense for bringing together inspiring lives with inspiring properties. As the founder and CEO of Worldwide Properties, Eddy and his team "list Miami and sell Miami worldwide." This global reach has enabled Eddy to close on several hundred million dollars in South Florida real estate transactions, including multi-million dollar bulk transactions and record-breaking dollar-per-square-foot individual sales at developments such as Apogee, Epic, Marquis Residences, Icon Brickell and the W South Beach. In addition to residential real estate, Eddy specializes in commercial properties and his firm also has a residential property management division which offers turnkey solutions, including renovation and staging, for absentee owners holding single condo units and institutional investors holding large real estate portfolios. Because of this three-tiered expertise, Eddy has become a noted – and quotable – resource on real estate trends in the media, including The New York Times, The Miami Herald, Miami Today and two cover stories in Florida Investor magazine. Eddy and his Worldwide Properties co-founder, Roland Ortiz, have 25 years of combined real estate experience in South Florida, selling the region's most distinctive and sought-after properties.
To Learn More: Visit J. Eddy Martinez's Haute Real Estate Profile