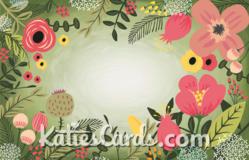 We hope that by offering an extra three months for free to those who sign up, more people who receive ecards from their friends will be tempted to join.
(PRWEB) February 26, 2013
Online ecard retailer Katie's Cards has announced a new membership offer which will run throughout the month of March. New sign ups opting for a three-month membership at http://www.katiescards.com will receive an additional three months for free. For a small fee, members can send unlimited ecards from the collection numbering well over two hundred. They can pre-schedule ecards to be delivered at a future date, can check whether their ecards have been viewed and can link their Katie's Cards account with their Facebook page.
To be eligible for the free membership extension, simply sign up for a three-months on the Katie's Cards website and then send an email to Katie(at)katiescards(dot)com mentioning the offer code 'MARCHMAD13'. The offer starts at 12am on the 1st March 2013 and will run until midnight on the 31st March 2013. It is open to anyone over the age of 18.
Katie's Cards CEO Katie Davies hopes that this offer will encourage new visitors to the site, especially those who have been sent ecards themselves:
"Many people who become a member of Katie's Cards do so because they've been sent an ecard and like what they see: the artistic style and family friendly content. We hope that by offering an extra three months for free to those who sign up, more people who receive ecards from their friends will be tempted to join. Hopefully, those who take advantage of this offer will then be encouraged to extend their membership further once their initial six-month membership expires."
This offer means that people could be paying less than the cost of two printed greetings cards for a six month membership. In light of the 30% increase in UK postal stamp prices, announced in 2012, many people are looking for cheaper online alternatives. Katie's Cards have already experienced an increase in membership numbers since the stamp price increase.
March is an exciting month to begin a membership with Katie's Cards due to the number of public holidays and celebrations taking place: Mother's Day is celebrated in the United Kingdom on the 10th March, St. Patrick's Day will no doubt be celebrated around the world on 17th March and Easter falls early this year, on the 31st March. The collection of ecards available on the Katie's Cards website not only includes cards for these more traditional holidays, but also includes electronic wedding 'Save the Date' cards, plus a diverse range of cultural festivals. Katie's Cards currently boasts members from all over the world, from India and Brazil to Hong Kong and Russia, and the company hopes to expand its collection of ecards over the coming months in order to continue to cater to the diverse tastes and backgrounds of its members.
About Katie's Cards
Katies Cards is a small, family-run, ecard company based in Teddington, Middlesex. The ecards on the website are exclusively available to members of the Katie's Cards website who can send unlimited ecards for the duration of their subscription. For more information and to preview the ecards please visit katiescards.com.