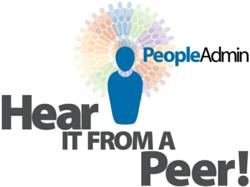 Austin, TX (PRWEB) February 26, 2013
PeopleAdmin, the leading provider of on-demand talent management solutions for higher education and government, will host a webcast entitled "In HR - Get Your House in Order: achieving transformational results through HR by focusing first In HR".
Transformational HR is less about delivering the cool, hip, state of the art product, gadget and tool to employees and stakeholders, and more about giving the entire company or organization a reason to reset everything they have thought about HR in the past; it's about inspiring hope and belief in what HR will be by resetting, quickly, what HR is.
This engaging conversation will detail the successful and accelerated transformation of two HR Departments into strategic and impactful strategic organizations. By focusing inward, on what HR is doing and what HR is being, one can transform HR quickly.
Regarded by many across the sector as the "HR turnaround queen" our session speaker, Nikki Jackson, was previously Cabinet Secretary for Personnel for the State of Kentucky and is now Vice Chancellor of Human Resources for Maricopa Community Colleges, the largest community college system in the country. Hear how her strategies worked in transforming HR in state government and what successes she has employed at Maricopa.
Webcast Details
Complimentary Webcast: In HR - Get Your House in Order: achieving transformational results through HR by focusing first In HR", featuring Nikki Jackson VCHR Maricopa Community Colleges District and Sissy Meredith - Vice President & Chief Learning Officer CUPA-HR.

Date: Friday, March 8, 2013
Time: 1:00 pm - 2:00 pm CST
Register Now
The presenters will discuss:

Why your self-awareness and personal sense of clarity matters as an agent of transformation
The importance of quick assessments of the current state (who you talk to matters- don't spend time with the whiners and killjoys. Find those who can focus a little on the problem and a lot on the options for solutions)
How to identify the organizational obstacles to HR's success and dilute them.
Why it is important to construct some kind of visual representation of the HR reset!
Why you must rally the whole organization around the why...not the what.
How to diligently mange what you are doing and what people think you are doing.
About PeopleAdmin
Founded in 2000, PeopleAdmin leads the way in providing web-based talent management solutions for higher education and government. PeopleAdmin solutions enable clients to automate and simplify the hiring process, manage position descriptions and classifications, improve candidate communication and selection, drive a compliant, defensible process and improve reporting methods. Our offering includes applicant tracking, position management, onboarding and performance management. Delivered through a software-as-a-service model, PeopleAdmin solutions are rapidly deployed, easy-to-use and supported through a world-class customer service organization. More than 700 leading organizations throughout North America use PeopleAdmin solutions to gain talent management efficiencies while minimizing risk.