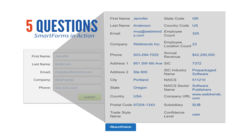 Routing sales leads quickly may be an overlooked key to driving more opportunities and sales.
Austin, TX (PRWEB) February 26, 2013
ReachForce SmartForms, is giving sales operations lead routing teams major speed and productivity gains according to case studies. Getting inbound leads qualified and routed to the correct sales person can be a time consuming and productivity-reducing exercise – and slow response can contribute to lost opportunities. Customers using ReachForce SmartForms are shaving significant time and in many cases automatically delivering precision-routed leads with no friction and with significant additional information to qualify the sales prospect.
With SmartForms, a simple web form with basic questions is transformed into an information rich event that adds in zip code, mailing address, headquarters location, industry segment, revenues, phone number and more.
Working in concert with marketing automation systems like Marketo, Eloqua, Pardot, Hubspot, Silverpop and Act-On and CRMs like Salesforce and Microsoft Dynamics, no matter how teams route their sales leads, the SmartForms data is automatically added to marketing and sales databases, triggers routing workflows and speeds leads to the correct person, eliminating time consuming and potentially delay-inducing handling steps.
"SmartForms is designed to optimize results for each customer – it works with any marketing automation system and any CRM – and the data enrichment ties into how each sales or marketing operations team works. If leads route both by industry segment and revenues or by location and number of employees, SmartForms automatically adds in this data to let sales operations deliver that lead to the right sales person within seconds of submission. This jump in speed helps SmartForms customers open more new orders," said Mary Firme, Chief Lead Accelerator for ReachForce.
In her recent post, Buyer Behavior Helps B2B Marketers Guide The Buyer's Journey, Forrester Analyst Lori Wizdo, notes that buyers may be up to 90 percent of the way through their product journey before raising a hand to sales. "For many product categories, buyers now put off talking with salespeople until they are ready for price quotes," Wizdo writes. With this in mind, speed in replying to sales leads is more critical than ever since buying committees and short lists of vendors may have already been formed.
"If a lead gets stuck in a qualification stage and no resources are available to research and add the missing routing info for a few days – how much business is being lost? SmartForms automated enrichment eliminates much of this friction and delay," Firme explained.
SmartForms is the solution of choice for a growing number of sales operations and marketing operations leaders. ReachForce case studies show that one customer was able to speed prospect profile completion from 20 days to 1 day using SmartForms. This speed to lead handling may partly explain the persistent 40% increase in sales pipeline at this company.
About ReachForce
ReachForce delivers cloud-based software and lead management services specifically designed for B2B marketers to accelerate conversions from their inbound, outbound, and database marketing initiatives. ReachForce fuels lead generation for over 400 leading companies such as Box.net, Citrix Online, Eloqua, GXS, Marketo, TripAdvisor, and Trend Micro. Businesses use ReachForce to optimize their routing, nurturing, scoring, segmentation and marketing automation initiatives to accelerate revenue. For more information on ReachForce, visit our web site at http://www.reachforce.com or follow us on Twitter @reachforce.