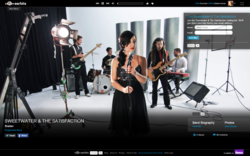 Groovies are fun way to listen to free, on-demand music by taking simple actions that help bands reach new fans and grow sales.
Los Angeles, CA (PRWEB) February 28, 2013
Earbits, a leading online radio and music marketing service, today announced several significant on-demand capabilities and the debut of a new social currency designed to solve the problem of streaming music monetization for artists and record labels. The new social currency, called Groovies™, allows users to access free unlimited music and earn rewards in exchange for taking simple actions that benefit artists and labels.
Historically, Earbits has been a radio-esque experience – without ads or commercials -- offering over 300 curated channels of independent music. The new Earbits format enhances this value with on-demand features like the ability to save favorite songs, browse discographies and play tracks and albums. Radio-style play will continue to be free to all users. Each song streamed on-demand requires users to spend 10 Groovies, earned through social media sharing and other actions that help artists and labels increase brand awareness and grow their fan base.
Groovies – A Better Online Music Experience
Streaming music services are plagued with intrusive ads and commercials, or subscription fees that cost consumers three times as much annually as they historically spend on purchases of recorded music (1). Groovies is the first social currency that allows consumers to earn unlimited on-demand access to ad-free streaming music by taking simple, quick actions that provide measurable value for artists and labels.
At launch, users can earn 500 Groovies by opening an account, 100 for sharing music recommendations on Facebook and Twitter, and 50 Groovies for joining artists' official Facebook fan pages or e-mailing lists. Groovies can then be redeemed 10 at a time for access to each on-demand song.
Upcoming releases could see rewards for checking into live shows on mobile devices, purchasing music or merchandise, or participating in album release promotions that create fast, early awareness for new albums. As users earn Groovies, they also earn Lifetime Karma that cannot be spent and is designed to track loyalty over time. Artists, labels and the Earbits team will be able to track and set up rewards for top supporters such as early access to new releases and free merchandise, or a monthly Google Hangout with the band for top supporters.
"The potential for Groovies is incredible," said Joey Flores, CEO of Earbits. "Over 70% of streaming music listeners are non-paying, most of whom also recognize the need to support artists and labels. Groovies create a social economy that maximizes the potential of this demographic by putting a real value on the actions they take to support their favorite bands. Groovies empower fans to earn rewards, recognition and unlock access to our growing music catalog."
The Powerful Value of Social Music Marketing
The value of ad-supported streaming music has come under scrutiny recently, as top services seek to lower royalty payments to artists, labels and publishers. With royalty payments for ad-supported listening already as low as one-tenth of a cent per stream, artists and their advocates question whether these services will create value for the industry or further drive down the value of recorded music. Earbits believes that the future of streaming music monetization is in creating alternative sources of value for the industry using online tools, data, and highly effective social marketing programs built atop an engaging streaming service.
Earbits Groovies is a cost-effective alternative to artists and labels spending considerable money on fan acquisition through costly and ineffective advertising and traditional marketing (online and offline ads, fliers, radio promotions, etc). Earbits Groovies aims to put a value on sharing artists' music, and joining fan pages and mailing lists. As just one example, joining a Facebook fan page earns listeners 50 Groovies, which unlocks 5 songs streamed on-demand. Streaming services currently pay between 0.5 and 2.5 cents for 5 streamed songs compared to the value of a Facebook fan, which is believed to be $3.60 or more (2). So the value of fan acquisition tools – particularly a system like Groovies that uses the social Web – can be considerably higher for artists than the value produced by ads, commercials, and even subscriptions.
In 2012, Earbits generated tens of thousands of Facebook fans and mailing list subscriptions for its 8,000 artists and over 480 record labels. Other artist monetization opportunities were added, including merchandise sales powered by Topspin Media, and concert listings powered by Bandsintown. Earbits expects to launch its first, full-scale mobile experience for Android in Q2, with iOS scheduled for later in 2013.
About Earbits
Earbits is the first commercial-free, streaming music service designed exclusively for marketing music products and live events. Earbits allows labels, bands and concert promoters to buy increased exposure in targeted channels under its Priority Airtime program. The company already has 480 labels, 8,000 artists and over 300 channels on its fast-growing, online music service. Founded in January 2010 with headquarters in Venice, CA, Earbits is funded by renowned Y Combinator, Charles River Ventures, former Lala CEO Geoff Ralston and WordPress founder Matt Mullenweg. For more information, visit http://www.earbits.com.
(1) US Census Bureau: http://www.statista.com/statistics/191044/us-consumer-spending-on-recorded-music-since-2002/
(2) Vitrue survey: http://www.adweek.com/news/technology/value-fan-social-media-360-102063