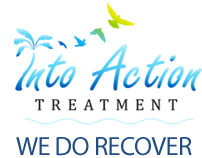 It really is remarkable how our clients are able to put their lives together and become contributing members of society
Miami, Florida (PRWEB) February 25, 2013
Into Action Treatment Center is at it again, leading the way in the addiction industry and helping their clients get sober and have fun while doing it. This past weekend, they went down to Miami for a car show at the Miami Marlins stadium, had a speaker meeting and even a beach cookout.
This week, they are installing a punching bag at the center for their clients to use. "The punching bag will be a great way for our clients to take out their anger in a healthy way, which may very well be the first time in their life where they are able to have a healthy expression of anger," said Andrey Rossin, CEO and founder of Into Action Treatment.
Into Action Treatment just turned 1 year old this month and they are continually looking for ways to improve their center. They listen to client feedback and even let them have a say in the way things go around the center. The punching bag was their idea; they just had to get it approved by the staff. "As long as everyone who uses the punching bag signs a waiver and understands the risks involved in using it, then they are free to use it," said Rossin.
Anger is a natural emotion and one that trips up a lot of addicts and alcoholics in early recovery, so the staff at Into Action hope the punching bag will help them better process and release their anger. A lot of their clients are moving on with their lives, getting back into society. They come into the center with basically nothing but themselves and a bag of clothes. A lot of them come straight from a drug detox center and are literally on death's door when they show up at the center. "It really is remarkable how our clients are able to put their lives together and become contributing members of society. This is exactly why we are in this industry, to see people get their lives together," remarked Andrey Rossin.
Their clients really do get their lives together, getting jobs or volunteering in the community. For those that are lucky enough to have a clean driver's license, they are even getting back on the road, even if it is in a used car. The key for Into Action drug rehab being so successful in just over a year in existence, is that they care about their clients and want them to get better. Rossin said, "Our goal is to have our clients come through one time, we do not want anyone coming back to us, because that means we have not done our job as a treatment team."