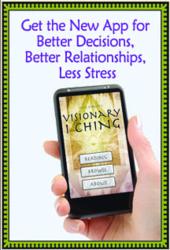 Smart phone and tablet users gain immediate insights by consulting the I Ching through our new App
Portland, Oregon (PRWEB) February 27, 2013
Author Paul O'Brien announces the release of the Visionary I Ching App. The Visionary I Ching App is an interactive version of Paul O'Brien's new eBook The Visionary I Ching: A Book of Changes for Intuitive Decision Making (Visionary Networks Press, 2013). The App offers users the freedom to consult the I Ching from their smartphones for insights and creative approaches to decisions and dilemmas. For over 20 years, Paul O'Brien has produced software for divination by using interactive software to provide universal access to the experience of ancient divination systems. The oldest divination system -- The I Ching—Book of Changes -- is a psychologically sophisticated intuitive decision-making tool that helps people manage change, enhances the quality of decision-making and improves one's timing.
"There are a billion smartphones in use now and that's expected to double by 2015. That means even more people will have instant access to divination tools. Smartphone and tablet users can gain immediate insights and decision-making guidance in any setting they find themselves, consulting the I Ching through the Visionary I Ching App," O'Brien explains.
Paul O'Brien himself used the I Ching throughout his rise to success as a software producer, culminating in AOL Horoscopes and Tarot.com. "As a decision-making tool, the I Ching helped me with the most critical success factor – good timing. Making decisions prematurely or waiting too long can make the difference between hitting the mark, or missing the window of opportunity when it comes to both business dealings and personal interactions," O'Brien says.
To purchase the new Visionary I Ching App visit the iTunes store or Android Market. Priced at $4.95 this valuable tool is affordable and valuable. For more information visit
http://divination.com/visionary-i-ching-mobile-app/
The Visionary I Ching mobile App was developed in collaboration with a European developer Indie Goes Software, of Paris, France.
Bio for Paul O'Brien
Paul O'Brien left an executive position to invent a new category of software applications in 1989, which he later turned into the world's largest astrology and divination website. He is the author of two books with a third in the works. Paul is a sought-after speaker, visionary, entrepreneur, author and founder of the educational nonprofit Divination Foundation.
Paul's newest book The Visionary I Ching: A Book of Changes for Intuitive Decision Making, (Visionary Networks Press, February 2013) is a beautifully illustrated eBook that offers the reader insights into current conditions in their lives and tools for managing change. The Visionary I Ching is a non-sexist, non-militarist interpretation of humanity's oldest classical divination systems. The book is illustrated by Joan Larimore, with inspiring art for each of the I Ching hexagrams. This modern version renders this ancient system useful as an intuitive decision-making aid for modern times.
Paul's first book Divination: Sacred Tools for Reading the Mind of God (Visionary Networks Press, July 2007) showed how authentic divination systems (like the I Ching) help people make better decisions resulting in better relationships, greater success and less stress. Here, Paul shows how you can stimulate your intuition to think outside the box to solve problems that logic can't handle -- especially strategic personal and professional decisions we now must make more quickly than ever. This book explains how divination systems work, their history, psychology, and how to apply such tools for intuitive stimulation and optimal results.
For 28 years Paul has been the host of Pathways, a radio interview program focused on personal and cultural transformation, and is currently authoring the syndicated advice column Paulo's Perspective as well as his Decision Maker's Blog -- both dedicated to helping people make better decisions, have better relationships and improve their timing.
For more information visit http://www.divination.com/press/. For interviews contact Diane at Inspired Media Communications, info(at)inspiredmc(dot)com or 503-329-4314.