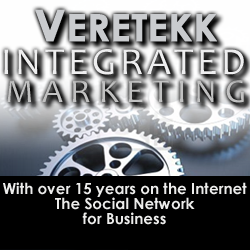 Another Service Driven MLM going down?

Facebook recently banned the Empower Network links on Monday August 6, 2012 making some panic, and others rejoice, but is this the end for the Empower Network on Facebook?
Cheyenne, Wyoming (PRWEB) February 27, 2013
CEO Thomas Prendergast officially announced today the termination of Veretekk's mlm program. He went on to say, "Service driven mlms never work, never last the test of time and more often than not, many are outright scams in disguise. One of the main reasons we have terminated our mlm program is the stigma that always thwarted Veretekk's true goal, to enable the little guy and gal to build success with their primary business."
Mike Darling added, "With the primary goal of Veretekk to help the individual with their primary business, what we discovered is most of the product driven mlms, like Trivita, Organo Gold, Shaklee, etc., have terms and rules that outright penalize their distributors for joining another mlm type business."
Thomas Prendergast agreed and continued, "The mlm factor also caused other distributors with large organizations from embracing the very thing that could explode their business, from recommending it, for fear their distributors would loose focus trying to promote the very system that was meant to build their primary business."
Thomas Prendergast also pointed out, "Look at the recent scandal with Visalus and Empowerment Network. Visalus is a product driven mlm company, with terms against their distributors from belonging to or promoting any other mlm deal. Empowerment Network is a service driven mlm company whose product is a Wordpress self replicating site. Visalus just recently terminated distributors involved with this service driven mlm. And to quote a reliable source, 'Empower Network has been banned from Facebook and YouTube'. This is my point. Veretekk is all proprietary code and Veretekk's prime focus is helping everyone who is working towards building a business, regardless if it is mlm or not. Focusing on our prime directive helps the industry and supports the entrepreneur beginner as well as the successful leaders."
Mike Darling continued with this statistic and commentary, "All in all many mlm operations that are product driven are for the most part legitimate and last the test of time, however in direct contrast, the service driven mlms have been based on false projections and vaporwear. Looking back, the following headline scams shut down for illegality are all service driven, 'Skybiz, PRSI, Bigsmart, Travelogia, Zeekler, etc". Above everything else, we do not want Veretekk associated with companies such as these. Veretekk is better than that. And our first license joint venture with Ed Mercer of billionaire status has been a huge success so far."
In closing Mike Darling said, "While we recognize that the vast majority of the 200+ million home based businesses out (in the US alone) there are in fact distributorships for one of 1200+ credible MLM companies... and thus is what our customers' businesses are all about, the focus of Veretekk has always been empowering our clients with the tools they need to be sucecssful... and paying affiliate commissions on top of that has confused the issue".
Veretekk has been in the business of automated marketing, Aweber level email systems, Gotomeeting quality conference rooms, enterprise level hosting, SEO technology like PageTraffic, with serious professional mentors and experts available in a classroom environment 7 days a week for over 10 years.
You can now get the entire system, no mlm stigma, state of the art tools, helping the little guy and gal with savings of over $500 per month at no cost to the subscriber.
This has been Veretekk's mission, to reach out and help the little guys and gals.
http://veretekk.com/group/get_a_free_full_blown_gold_veretekk_system