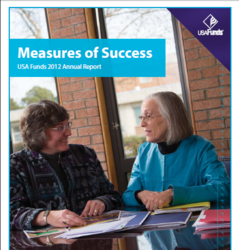 Indianapolis, Indiana (PRWEB) February 26, 2013
USA Funds® reports that, during 2012, it assisted dozens of colleges and universities in enhancing student access to and success in higher education. In its annual report of activities, USA Funds notes the following accomplishments during 2012:

USA Funds consultants assisted 97 post-secondary institutions in developing new or expanding existing campus initiatives aimed at increasing student loan repayment success rates and reducing loan default rates.
Nearly 150 colleges and universities have adopted the USA Funds Life Skills® financial literacy curriculum, with more than 38,000 students nationwide benefiting from online courses on money and credit management and advice for academic success. After taking USA Funds Life Skills courses, more than 91 percent of students reported changing at least one behavior related to managing personal finance or school life issues.
USA Funds introduced a new borrower communication tool, USA Funds Borrower Connect™, which 82 colleges and universities adopted during the year to enhance their student loan default prevention results. USA Funds also introduced USA Funds Borrower Connect InTouchSM, a staffing solution for institutions that lack the staff resources to carry out communication campaigns to their student loan borrowers.
Nearly 12,000 participants took advantage of USA Funds University financial aid training webcasts. An additional 3,400 campus administrators participated in the twice yearly nationwide series of USA Funds University financial aid workshops. USA Funds University online training recorded nearly 10,000 additional learner-sessions completed during the year.
USA Funds awarded funding totaling $11.8 million to 175 projects that advance higher education readiness, enrollment and success.
The USA Funds annual report highlights examples of its services during the year to enhance higher education access and success, including the following:
Fayetteville Technical Community College in North Carolina benefited from an expanded partnership with USA Funds that grew out of the college president's participation in the 2012 USA Funds symposium. The symposium is an annual gathering of executives and administrators from a broad cross section of higher education institutions to address common challenges in college access and success. Fayetteville Technical Community College participates in a USA Funds-supported initiative to enhance the number of students who complete community college and transfer to Historically Black Colleges and Universities to pursue bachelor's degrees. USA Funds also assisted the college with debt management consultation services and a review of its financial aid office processes.
Harrison College, with campuses in Indiana and Ohio, uses USA Funds Borrower Connect to communicate with its student loan borrowers and keep its student loan default rate lower than the rates of many of its peer institutions.
After serving as a leading funder of College Goal Sunday® since the program's inception, USA Funds assumed ownership of and responsibility for administering the financial aid application assistance program nationwide. During the year, USA Funds hosted a national forum of state College Goal Sunday coordinators to share best practices. USA Funds also awarded grants totaling $485,000 to support College Goal Sunday programs in 26 states and the District of Columbia.
Pueblo Community College in Colorado uses USA Funds Life Skills in its student success course and to enhance counseling of students who are taking out federal student loans. Fellow students who served as peer mentors at the college selected USA Funds Life Skills to be part of the curriculum.
Columbia College in Missouri relies on USA Funds University training to keep its financial aid staff up to speed on federal regulations that govern student aid programs.
For video highlights from the report and to download a copy of the USA Funds annual report, visit http://www.usafunds.org/annualreport.
Headquartered in Indianapolis, USA Funds is a non-profit corporation that works to enhance postsecondary education preparedness, access and success by providing and supporting financial and other valued services. For more information about USA Funds, visit http://www.usafunds.org.