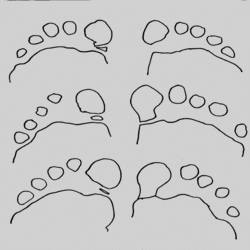 India Network Travel Grants help present cutting edge research of Indian academicians in the United States.
Orlando, FL (PRWEB) February 26, 2013
India Network Foundation announces its first 2013 Travel Grant award to Dr. Kewal Krishan, Senior Assistant Professor, Panjab University, India. Dr. Krishan will present his research in collaboration with Dr. John D. DiMaggio at the American Academy of Forensic Science Conference held in Washington, DC, USA. Dr. Krishan's paper details cutting edge research in Forensic Podiatry on the importance of foot and foot prints in forensic work. The research aims to help crime scene investigations, particularly in India where people prefer to walk with bare feet. The paper determines an estimation of stature from foot and foot prints given individual characteristics of footprints.
Dr. Kewal Krishan took a cross-sectional sample of 1040 adult male Gujjars, ages 18-30 years, from 16 villages near Chandigarh, India. A total of 2080 footprints were used in the study with 10 measurements from each foot taken. The Study establishes that individualistic characteristic features of the footprints can provide useful clues to establish personal identity whenever complete or partial footprints are recovered at the crime scene. This study reports horizontal ridge running across the instep region of the foot, a new characteristic in this kind of study. More research with various subgroups of population is needed to establish the linkages found in the study.
India Network Foundation offers travel grants to academic researchers from India to promote and encourage cutting edge research and bring that research to international conferences held in the United States. The Foundation award s these grants purely based on merit of the research and its importance irrespective of caste, religion, region or any other reservations. All researchers are encouraged to submit their proposals following the guidelines posted on the foundation web site at http://www.indianetwork.org. These travel grants are made possible by the generous contributions of Dr. KV Rao and the India Network Health Insurance Program that provides health insurance coverage for visiting parents from India.
Professor KV Rao congratulated Dr. Krishan on his award saying "the Foundation is pleased to help talented young researchers from India recognize their research potential and contributions to the international body of research."
About India Network Foundation
India Network Foundation, established as a US non-profit organization, has been helping the Asian Indian community in North America with programs and grants to academics from India for more than two decades. India Network Foundation sponsors visitor health insurance to tourists, students, temporary workers (H1 visa holders) and their families. All insurance products are administered by India Network Services.
For more information visit http://www.indianetwork.org
About India Network Health Insurance
India Network Services is a US based company that administers visitor health insurance to visiting parents, transient residents, tourists, students, temporary workers and their families. Cashless Visitor health insurance plans are offered for all age groups with network based comprehensive coverage and with pre-existing condition coverage.
For more information visit http://www.kvrao.org