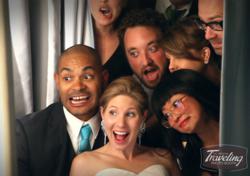 Banning vendors for not paying rent is unethical, stifles competition, declines the quality and quantity of wedding professionals, and at the end of day, takes an important decision away from those who really
Minneapolis, MN (PRWEB) February 27, 2013
The Traveling Photo Booth® (TTPB) accepted its first 2013 Semple Mansion client since exclusive 2013-2014 photo booth rental rights were granted to a tenant of the mansion and a direct competitor of TTPB. The Mansion gave TTPB explicit permission to accept the rental. To celebrate, TTPB is offering Semple Mansion clients photo booth rentals nearly at cost.
In an email, Semple Mansion Catering Manager Katherine Hendrickson said granting a TTPB competitor exclusive photo booth rights, "Has nothing to do with the performance of The Traveling Photo [B]ooth....we have loved working with you."
"Banning vendors for no particular reason besides the fact that they don't pay rent is unethical, stifles competition, declines the quality and quantity of wedding professionals, and at the end of day, takes an important decision away from those who really should be making it - the client. Our decision to offer their clients an aggressive discount clearly isn't about making money but about protecting choice. We sincerely hope our friends at The Semple Mansion reconsider these types of relationships," said Jacob Stewart, co-founder of The Traveling Photo Booth® and a self-proclaimed crotchety old man.
Clients of The Semple Mansion should visit here for more information.