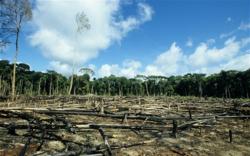 The legislation will not prevent imports of deforestation products, from countries where forest destruction is legal.
London, U.K. (PRWEB UK) 27 February 2013
The European Union Timber Regulation (EUTR) will become law on 3rd March. From this date onward the sale of illeg timber and timber products will be prohibited within Europe.
'At AFOBI all of our oak flooring, teak coffee tables and pine bed frames are made from timber certified by the Forest Stewardship Council. Our timber is not only legal, but also sourced from responsibly and ethically managed forests,' explains Zack Newman, company director. 'The EUTR legislation does not attempt to prevent products manufactured under sweatshop conditions in countries with poor human rights records entering Europe. The legislation will not prevent imports of deforestation products, from countries where forest destruction is legal.'
The global trade in illegal timber has been steadily growing during the past decade. China now imports around 180 million cubic metres of wood products per year. It is estimated that between 37-66% of this timber is illegally sourced. The Chinese government incentivises companies that import raw timber and export finished timber products by providing tax rebates. In 2008, the US Lacey Act amendment prohibited imports of illegally felled timber. This led to the conviction of Gibson Guitars who were forced to pay $350k in damages. However, in 2013 the US remains the biggest import market for Chinese timber products. The EU is the second largest importer, with more than 10 million cubic metres of timber products arriving from China each year. In the UK 85% of all furniture is imported, the majority of this from Asia. Illegal timber is clearly a problem. So will the EUTR be able to overcome these problems?
China is not the only country embroiled in this saga. South-to-south trade is increasing with countries like Vietnam now importing timber from over 80 countries. In order for timber to enter Europe under the EUTR, companies will need to demonstrate 'due diligence'. Importers can present certifications from any one of ten different schemes including the EU's 'Forest Law Enforcement, Governance and Trade' scheme (FLEGT). Countries certified under FLEGT will include Indonesia where it is estimated that 50% of timber and timber product exports are from illegal sources. Indonesia exports around 2,000 shipments of timber every week.
'The EUTR is a step in the right direction,' comments Zack Newman. 'Many importers of forest products have little awareness of the EUTR. Meanwhile deforestation continues unabated. When the EU introduces legislation banning the sale of timber without full chain-of-custody, we will have cause for celebration. Until then increased consumer awareness will remain more important than anything the EU is doing on forestry.'
It is highly unlikely that anyone will be arrested for sitting on a chair made from endangered Burmese rosewood. The EUTR states that any buyer must be able to trace the supplier who sold a timber product. 'Wherever possible we recommend buying FSC certified timber and timber products,' Zack Newman advises. 'This is the best way to be sure you are not contributing to deforestation'.
Notes to Editor
Please call or email AFOBI London furniture shops For further information or comments - info@afobi.com / 0207 458 4069
To comment on this article, visit:
http://afobiltd.blogspot.co.uk/.
Chinese statistics from the EIA document 'Appetite for Destruction. China's trade in illegal timber'.