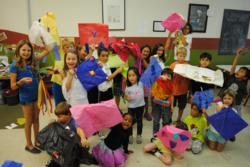 "We provide a common ground and starting place where they not only learn science but learn to work as a team and explore together," notes founder Dr. Leonisa Ardizzone.
New York, NY (PRWEB) February 27, 2013
Storefront Science, an after-school and weekend place that engages children and introduces them to the wonder, challenge and fun of science, has just released its summer camp schedule.
From building bridges to exploring urban wildlife to studying their own cells under a microscope, Storefront Science kids explore all aspects of science in a hands-on way that puts "fun" back into fundamentals.
Founded in January 2012 by Dr. Leonisa Ardizzone, a science educator with 20+ years of experience in New York classrooms, Storefront Science has quickly grown into an Upper West Side phenomenon that boasts sold-out enrollments and has been featured in The New York Times, Time Out New York Kids, Big Apple Parent, Mommy Poppins, CBS News, Thirteen.org as well as in "Best of New York" in New York Magazine.
Ardizzone stresses the fact that Storefront Science summer camps are open to everyone. "East Side, West Side, Bronx, Brooklyn, Queens, Staten Island and New Jersey, Storefront Science is for all kids of all ages and backgrounds. We provide a common ground and starting place where they not only learn science but learn to work as a team and explore together," Ardizzone notes.
The Storefront Science summer camps invite children to "play" science thus developing their inquiry, creativity, and critical thinking skills while playing biology, chemistry, physics and engineering.
This summer, the unique camps that Leonisa and her team have created include Tinker Time (Exploring Inventions!), Rise Robots Rise (Exploring Lego Robotics!), Amazing Animals! (Exploring Biology!), Water Water Everywhere! (Exploring Chemistry & Biology!), The Periodic Table (Exploring Chemistry!), Urban Naturalist (Exploring Ecology!), The Mighty George Washington Bridge (Exploring Engineering!).
Camps run weekly from July 22nd through August 30th. Both full day and half-day options are available, a great option for young children or families who want to mix up their kids activities over the summer.
Receiving hearty endorsements from State Senator Adriano Espaillat, NYC Councilman Robert Jackson and the 181st BID, Storefront Science is conveniently located off the A and 1 trains and classes are priced with today's families in mind.
Says 10-year old Jack, "I learned how to take my own DNA from inside my cheek; then I studied it and carried it around in a necklace for the rest of the day. I never knew science could be this much fun!"
For more information on Storefront Science's Summer Schedule, please visit the website at Science Summer Camps or call 646-833-7195 for additional information.