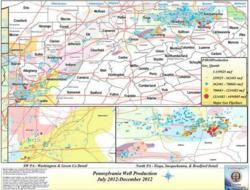 ShaleNavigator Subscribers can view the state provided information in an interactive map, along with pipelines, permits, and lease offers - ER Camp, Founder, ShaleNavigator®
New York, NY (PRWEB) February 26, 2013
The latest Marcellus gas production data released by the Pennsylvania Department of Environmental Protection, Office of Oil and Gas Management shows the Marcellus Shale Play is continuing as a major contributor to the Nation's natural gas production. According to the data, as of December 31, 2012, 3,551 wells reported gas production. Cabot Oil & Gas Corporation claimed 9 of the top 15 gas producing wells, with Citris Energy, Chief Energy, and Rice Energy rounding out the top 15 in the 6 month reporting period.
As a service to it's Subscribers, ShaleNavigator® analyzed the data and reports that Pennsylvania's Susquehanna County, in the northeast part of the State, contains 9 of the top 15 natural gas well locations, followed by Wyoming County, with 4 of the top 15. Washington County, in southwestern Pennsylvania showed 3 of the top 5 Oil producing wells from Chesapeake Energy. The data has been added as a new map layer in the ShaleNavigator® mapping system.
About ShaleNavigator
ShaleNavigator is an online, interactive mapping system with natural gas wells, well permits, pipelines, and leasing layers. Subscribers can view recent lease offers and create an save their own maps. Data is updated regularly and includes recent lease offers, hundreds of newly issued well permits in the three state Marcellus & Utica Shale plays, natural gas pipelines in the Marcellus, Utica, and EagleFord, and listings of 50+ Available Properties comprising 12,000+ acres.
Accessing ShaleNavigator
A free 7 day account is available. To access the drawing and saving map tools and to have access to high value layers, subscribe for only $99/month, or $899 for an entire year. Group discounts are available.