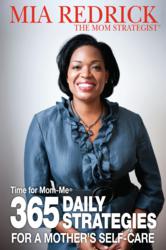 Self-Care Is An Important Part Of Motherhood.
Baltimore, MD (PRWEB) February 26, 2013
Mia Redrick, The Mom Strategist, CEO of Finding Definitions, LLC, and author of Time For Mom-Me: 365 Daily Strategies For a Mother's Self-Care will appear on Fox this Thursday, February 28 in a segment of the Ricki Lake Show. During the episode, mothers break their silence and reveal their secrets about the not so perfect side of motherhood. Redrick visits a family and provides her strategies to a woman who admits she is completely overwhelmed by how to cope in motherhood.
Mia is a strategy coach for moms, speaker, national parenting expert, media personality, Ironmoms' founder and triathlete, and a wife and mother. She has reached thousands, both nationally and internationally, with her empowering message for moms that "self-care is non-negotiable but necessary to be the best parent possible."
Mia is also the author of a brand new book, Time for Mom-Me: 365 Daily Strategies for a Mother's Self-Care. The book includes self-care strategies for busy moms, and is packed full of practical tools, bite sized tips, and thought-provoking reflective questions to help moms to identify and nurture their own passions, create self-care rituals, and to build better life systems in motherhood to become better moms, and happier people—all in just 15 minutes a day.
Redrick is a featured contributor for The Huffington Post, Dr. Oz's Sharecare.com, Shine from Yahoo.com, DrLaura.com, SelfGrowth.com, and Mamapedia.com, and has been featured in The Baltimore Business Journal, Essence Magazine, The Washington Post, Women's World Magazine, and CNN.com. She is a Parenting Expert for ABC News 2 in Baltimore and has been featured on ABC News' 2, The Point, National Public Radio Tell Me More with Michel Martin and more. Redrick has also co-hosted Team Radio on WOLB 1010 AM in Baltimore.
Redrick's goal is to empower one million moms to practice better self-care, and she is leading the charge to establish self-care groups for moms across the country using her turnkey system. She has been helping organize Time for Mom Me support groups for years, and has helped thousands of moms with personal growth, knowing that these women become better mothers when they practice self-care.
One of the pillars of self-care is a support group that encourages camaraderie, accountability, sharing, encouragement, and solutions. According to Mia, "Whether we are stay-at-home, work-at-home, professionals, homeschooling, or business owner mothers, self-care is an essential component of motherhood. Our families rely on us each day to make the best decisions, to love them and to provide for their overall wellness and health. How can we give our best if we haven't learned to apply our best to ourselves?
Click here to learn more about Mia Redrick and her Time for Mom-Me classes.
Click here for information about Mia's mission to help mothers balance the rigors of parenting with strategies for finding personal time.
Click here for more information about Mia's online coaching program.