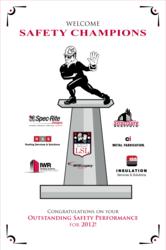 The Legacy Safety League has helped our employees become more proactive with safety, which benefits MHS Legacy, our subsidiaries, and ultimately, our customers
St. Louis, MO (PRWEB) February 26, 2013
MHS Legacy Group, Inc., a St. Louis-based diversified holding company that manages specialty contractors and fabricators, recently announced the success of its safety incentive program implemented throughout the organization in 2012. Known as the Legacy Safety League (LSL), the program is designed to provide employees incentives for recognizing, correcting and reporting unsafe conditions in company-owned facilities as well as on project sites to instill an overall culture of safety. In 2012, MHS Legacy Group's subsidiary companies logged more than 600,000 man hours, with only four recordable incidents.
"The Legacy Safety League has helped our employees become more proactive with safety, which benefits MHS Legacy, our subsidiaries, and ultimately, our customers," said John Alonzo, CSP, CHST Regional Safety Director of MHS. "The safety of our employees and everyone on the worksite is the most important aspect of any job we do and it is very rewarding to see the safety numbers improve across the board."
In 2012, MHS had seen a 43 percent decrease in Total Recordable Incident Rate (TRR or RIR), a 33 percent decrease in Lost Workday Cases, a 40 percent decrease in Restricted Workday Cases, and a 61 percent decrease in the companies Lost Workday Severity Rate compared to its average safety performance over the past 10 years.
The company-wide LSL program focuses on pre-emptive hazard elimination and encourages all employees to make safety a proactive priority rather than focusing on lagging indicators such as measuring zero incidents. The program shifts the safety focus to identify ways to eliminate or minimize every hazard imaginable rather than react to an accident that has occurred. Employees accumulate points based a number of proactive elements.
To accumulate points, employees attend weekly safety meetings and file observation reports on hazard recognition, hazard elimination and provide positive observations on the job site. In total, there were over 2,000 observations logged by the company-wide LSL program. Out of these observations, there were 375 hazard eliminations, 250 hazard recognitions, and 1,386 positive safety observations. The LSL program also awarded a total of 716,190 LSL points companywide which translates to 1.23 points on average per man hour.
"Evaluating the success of the LSL program goes beyond the numbers," said Walt Hatfield, CEO of MHS Legacy Group. "Another important evaluation tool is in the attitudes and behaviors of our employees towards safety performance. As a holding company, it was great to see our employees embrace the LSL program with full participation."
About MHS Legacy Group
MHS Legacy Group, Inc. is a diversified national holding corporation based in St. Louis since 1895 carrying a broad spectrum of commercial and industrial companies ranging from roofing and sheet metal, custom interior furnishings, custom metal fabrication, industrial walls, industrial scaffolding, and mechanical insulation contracting. MHS Legacy Group operates under CI Metal Fabrication, ISS-Insulation Services & Solutions, IWR Building Systems, RSS-Roofing Services & Solutions, Spec-Rite Designs and StructSure Scaffold with multiple locations throughout the United States boasting global distribution capabilities. For more information see http://www.mhslegacygroup.com