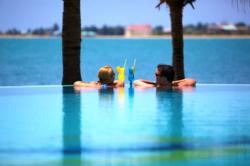 Placencia, Belize (PRWEB) February 27, 2013
Want to get an early start to your summer vacation and get the best rate of the year too?
"Chabil Mar kicks off the summer early", says Mr. Coh, General Manager, of this Placencia Oceanfront Resort. "While rates for most US and Europe destinations increase in the summer months, in Belize they typically decrease. We kick it off early, on May 1st, so our guests enjoy the typically beautiful May weather here in Belize, along with the same adventures of any Belize vacation, but at a reduced summer rate."
"Some of the best Belize weather of the year can be experienced in the month of May. Coastal sea breezes occur most days in Placencia and Belize's large tracts of jungle and rainforests provide cooling relief even in the hottest summer months. May temperatures in Belize climb to an average high of 87°F (31°C) and fall to around 79°F (26°C), with an overall monthly average of 82°F (28°C). If there is rain, it will most likely be in the morning, with the occasional thunderstorm at night."
To take advantage of an average 15% decrease in rates, beginning May 1, Mr. Coh advises contacting their Reservations Manager, Miss Althea Schable, at reservations(at)chabilmarvillas(dot)com or calling US/CAN toll free 1-866-417-2377, or via their web site, http://www.chabilmar.com.