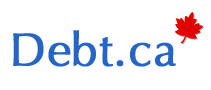 Canadian consumer debt is at a record high. Take the first step towards eliminating your debt and rebuilding your financial future!
(PRWEB) February 27, 2013
Debt.ca continues to be the leading resource of everything Canadians need for paying off their debt and improving their overall financial situation. With extensive information on all debt repayment, debt settlement and reduction possibilities in Canada, as well as a proven debt relief program that has helped Canadians from all walks of life get out of debt quickly and affordably, Debt.ca is a top Canadian resource for finding debt relief.
Almost three-quarters of Canada's residents currently have some kind of personal debt in addition to their mortgage. TransUnion says the average consumer's total debt, excluding their mortgage, rose to $27,485, which is a 5.9% increase from the $25,960 a year earlier. Global economic pressures have driven the rise in the amount of unsecured debt that Canadians are repaying, and too many believe that they can never get out from under the heavy weight of high interest payments that can take decades to pay off assuming they could afford to keep making the payments and even if they don't acquire anymore debt. Debt.ca dispels this common myth through its wealth of tools, a powerful debt relief program and access to other options.
In Canada, there are ways for consumers to resolve debt and get back into a positive financial standing reducing the principal that they currently owe their creditors. Navigating the many possibilities can be difficult for those who do not understand the complexities of the various options available to Canadians. The trained debt specialists at Debt.ca, on the other hand, are equipped to help consumers find and negotiate the best deal to get out of debt so they can begin rebuilding their credit and financial future as soon as possible.
Debt.ca will provide consumers a free no obligation debt consultation to examine their current situation. The Debt.ca team is dedicated to helping Canadians and this may include setting up a custom debt relief plan to reduce up to 40-60% of the total unsecured debt that they owe. The debt relief program is designed for individuals in a hardship who are struggling to pay their debt. If you qualify for the program, you will begin making affordable monthly deposits into a special purpose account. The funds will be used to settle your outstanding debt and the entire process will be handled on your behalf. Debt specialists also provide useful financial advice and guidance for rebuilding a positive credit profile after all creditors have been satisfied and closed out as no more money owing.
Unlike other companies that may keep debtors in the dark about the different debt relief options, Debt.ca and its debt relief team work hard to keep debtors well informed. Extensive articles explain the differences between all of the legal debt settlement and relief options in Canada while pointing out the disadvantages and advantages of each. This includes debt settlement, credit counseling, consumer proposals, bankruptcy as well as the types of consolidation loans available to Canadians. Credit specialists assess each individual's situation, help the consumer find the best debt relief option and explain the process all along the way.
Debt.ca also offers a number of debt calculators that help consumers compare debt relief options and see how much they will save under each option. The useful debt repayment calculator helps consumers get a true picture of how much their debt is affecting their budget by letting them know just how long it will take them to pay off all their creditors under their current income and debt repayment strategy.
Canadians who feel crushed under a load of debt should turn to http://www.debt.ca and its helpful tools and resources to find the right debt relief option. Visit the site to find out more about your options and educate yourself with the detailed guides and resources provided on the website.