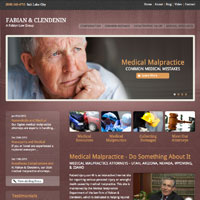 Salt Lake City, Utah (PRWEB) February 26, 2013
Patientinjury.com® website – the new online home of the Fabian & Clendenin law firm's medical malpractice division in Salt Lake City, Utah – was founded for the purpose of obtaining fair compensation for injured patients; working within legal and medical communities to objectively investigate and evaluate patient injuries; improving healthcare services through appropriate medical malpractice investigations; and providing individuals with information regarding common medical mistakes, resulting injuries, and the means to obtain fair and just compensation. To accomplish this, the website had to be visually engaging, educational, and easy to use – in summary, a great resource. With the help of legal marketing company Einstein Law, Fabian & Clendenin went about designing and building a website that met this criteria.
AN INTERACTIVE RESOURCE
With an intuitive interface, extensive video library, and Blog that is constantly being updated, the website of Fabian & Clendenin has been designed to be interactive and dynamic, not static. Patientinjury.com® features pages dedicated to a variety of legal topics, including medical resources, potential damages in personal injury claims, and catastrophic injury; these pages make it easy for persons who have been injured as a result of another party's negligence to get the information they need and have their questions answered. At its core, the website of Fabian & Clendenin is intended to serve as a useful resource for personal injury victims of medical malpractice. It is one more tool that a victim can utilize to seek a just and fair resolution to his or her unfortunate circumstances.
A TEAM OF PROFESSIONALS
Fabian & Clendenin is a large, renowned law firm that is able to handle and litigate cases on a national basis thanks to an extensive team of experienced attorneys. The Patientinjury.com® website focuses primarily on medical malpractice, of which, Fabian & Clendenin has six lawyers and two registered nurse consultants dedicated exclusively. For professional medical advice and expert witnesses, the team – led by Norman J. Younker, Attorney at Law – can call upon over 500 medical specialists throughout the nation. With such resources, experience, and skill on tap, the team of Fabian & Clendenin is uniquely qualified and able to represent individuals' rights in a court of law, and bring about successful resolutions on their behalf.
Norman J. Younker, the founder of Fabian & Clendenin's medical malpractice department, has more than two decades of experience serving injured patients, and his experience defending the medical industry prior to his joining Fabian & Clendenin provides him with unique insight into the various machinations and thought processes of a defense team. As a current member of the board of governors of the Utah Association of Justice, Mr. Younker is well-respected both by his clients and his colleagues.
Fabian & Clendenin
215 South State Street, Suite 1200
Salt Lake City, Utah 84111
888.249.4711
http://www.patientinjury.com/
Originally posted by Fabian & Clendenin.