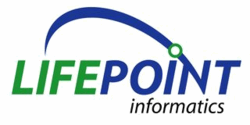 Glen Rock, NJ (PRWEB) February 27, 2013
Contributing to the discussion of changing lab services and pathology practices today, Lifepoint Informatics, a leader in health IT, is serving as sponsor for two upcoming G2 conferences.
Lifepoint Informatics will join the discussion at the following conferences in Ft. Lauderdale, Fla:

The G2 Volume to Value Conference takes place Feb. 25-27 with a focus on bringing together multiple powerhouse segments of the clinical laboratory industry in one place to address the changing competitive landscape. Topics to be covered include the implications of health care reform, the lab's role in wellness/prevention and infection control/surveillance, innovative service offerings and more. Lifepoint is a gold sponsor of the "Redefining Lab Services in a Changing Market" event.
The subsequent G2 Pathology Institute Conference, Feb. 28-March 1, brings together the nation's top pathology experts to focus on the conference them of "Grow Your Practice in Turbulent Times." Physicians, lab executives and other pathology leaders will explore innovative growth strategies and business opportunities for private practice pathology groups. Lifepoint is a silver sponsor for the pathology conference.
"As leaders in the healthcare IT industry, supporting and joining the efforts of colleagues, physicians and leaders from across the country helps us contribute to the discussion of technology in healthcare today and to gather new knowledge, ideas and input," said William Seay, CEO of Lifepoint Informatics. "We look forward to sponsoring and participating in both events with a focus on redefining lab services and growing labs, two efforts Lifepoint can support through its innovative healthcare technology and services."
Lifepoint Informatics' mission is to help healthcare providers improve patient care and lower costs through the use of information technology by enabling customers to integrate disparate healthcare information systems and improve the communication, accuracy and flow of clinical information. Lifepoint's solutions can improve the quality of patient care at a reduced cost, achieving positive return on investment.
"Since healthcare integration and connectivity is such an important part of our business, participating in leading conferences and discussions on the latest industry topics is incredibly important to what we do and how we do it," Seay added.
About Lifepoint Informatics
Lifepoint Informatics is a leader in healthcare IT focusing on laboratory outreach connectivity, health information exchange and clinical data interoperability to help healthcare providers improve patient care and lower costs through the use of information technology. Since 1999, Lifepoint Informatics has enabled more than 200 hospitals, clinical labs and anatomic pathology groups to grow their market share and extend their outreach programs through the deployment of its ONC-ATCB certified Web Provider Portal and its comprehensive portfolio of ready-to-go EMR and EHR interfaces. For more information, please visit http://www.lifepoint.com