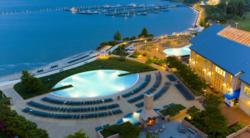 Guests can have fun in the sun at the luxurious resort all season long as it hosts special Theme Weekends
Cambridge, MD (PRWEB) February 27, 2013
Spring is in the air at the four-diamond Hyatt Regency Chesapeake Bay Golf Resort Spa and Marina. The scenic Eastern Shore destination is offering a Spring Fever deal that starts at just $179 per night, available March 1 – May 22. In addition, guests staying during the resort's spring break week, March 22-April 7, enjoy a host of extra complimentary activities.
"The resort truly blossoms in spring," said Ted Kanatas, general manager of Hyatt Regency Chesapeake Bay. "As the weather warms, it's the perfect time for families to take advantage of fun, affordable getaways and all we have to offer."
This year, the Eastern shore resort is offering over two weeks of extra special complimentary and low cost spring break activities beginning Friday, March 22 through Sunday, April 7. Highlights include the resort's heated outdoor pool, the indoor heated Wintergarden pool as well as nightly 'dive-in' movies. Guests of all ages can compete in Family Iron Chef competitions and Family Olympic tournaments, which feature golf, tennis, volleyball and mini golf. An arcade room stocked with a Wii, Xbox and Playstation 3 is sure to provide hours of entertainment, along with karaoke and dancing for older kids in the teen lounge. Parents can unwind with a relaxing yoga class. And, guests can celebrate the Easter holiday with egg decorating and an Easter egg hunt.
But, this is no spring fling! Guests can have fun in the sun at the luxurious resort all season long as it hosts special Theme Weekends. Family friendly themes like Super Heroes & Villains featuring a costume party (March 8 – 9), Final Four Weekend (April 6 – 8) and Pirates & Princesses (April 12 – 13) are designed to make family getaways even more entertaining.
In addition to these fun family friendly activities, there are numerous other opportunities for recreation, relaxation and dining during the spring months at Hyatt Regency Chesapeake Bay. Golfers can warm up their game on River Marsh Golf Club's 18-hole championship course and participate in the resort's First Annual Icebreaker Open on March 30 to get in the swing of spring. Sunny days are ideal for boating at River Marsh Marina as well as kayaking, paddle boating or playing miniature golf and disc golf. At the resort's six dining destinations, guests can indulge in an array of Eastern Shore cuisine like crab cakes, fresh oysters and local rockfish. Guests can also take a five-minute drive to a local winery or to downtown Cambridge, which boasts numerous art galleries, chic boutiques and restaurants.
Hyatt Regency Chesapeake Bay Resort's Spring Fever package is available March 1 through May 23, 2013. The package includes luxurious overnight accommodations and a s'mores kit. Prices start at $179 per night Sunday through Thursday and $219 per night Friday and Saturday, exclusive of tax and resort fee. The rate is based on double occupancy. Reservations are based upon availability and must be made in advance. Special spring break activities are available only during March 22-April 7 only. Full pre-payment is required, and is refundable if cancelled within the terms of the resort's cancellation policy. For more information and to make hotel reservations, please call 800.633.7313 and request offer code SFEVER.
Hyatt Regency Chesapeake Bay Golf Resort, Spa and Marina
The Hyatt Regency Chesapeake Bay Golf Resort, Spa and Marina is the premier four-diamond resort of the Chesapeake Bay. The newly renovated property is nestled on 342 magnificent acres along the Choptank River, and features 400 luxurious rooms and suites. Among amenities are six superb dining options; an award-winning, 18-hole championship golf course; the 150-slip River Marsh Marina; and the new Sago Salon & Spa; multi-level indoor and outdoor swimming pools; a fitness facility, and a children's recreation center. Become a fan on Facebook at http://www.facebook.com/hyattchesapeake or follow us on Twitter at @hyattchesapeake.
###