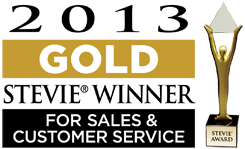 At GoECart, customer service has always been paramount. We are very honored to be recognized by the Stevie Awards for our work in helping our clients to shine in the world of ecommerce
Bridgeport, CT (PRWEB) February 27, 2013
GoECart today announced it has won a prestigious gold award in the seventh annual Stevie Awards for Sales and Customer Service competition. The multi-channel ecommerce solutions provider was selected for the award out of 17 finalists in the fiercely competitive Customer Service Department of the Year – Computer Software category for companies with up to 100 employees.
The Stevie Awards for Sales and Customer Service recognize the achievements of call center, customer service, and sales professionals worldwide. From the more than 1,100 entries submitted to this year's competition, entries were considered in 30 categories for customer service and contact center professionals.
GoECart's founder and CEO Manish Chowdhary said, "At GoECart, customer service has always been paramount, but it is especially gratifying to receive this award after the remarkable year we had in 2012. We are very honored to be recognized by the Stevie Awards for our work in helping our clients shine in the world of ecommerce."
Last year was a banner year for GoECart's Sales and Customer Service on a number of levels. Highlights included:

Market introduction of GoECart 360, the "all-in-one" ecommerce suite designed to provide multi-channel merchants with the full suite of tools needed to manage and grow an online business.
Overall growth of the company by high double digits — with twice the number of new customers.
An expansion of training programs to include one-on-one role-based training for new clients.
GoECart 360 merchants collectively processed 210% more transactions during the 2012 holiday season over the same period in 2011 with zero downtime.
A substantial increase in the company's Client Services (CS) team to support the unprecedented growth and outstanding customer support with zero employee attrition.
Redesign and launch of the company's website http://www.goecart.com to be more customer centric.
In October 2012, Hurricane Sandy put the GoECart Customer Service team to the ultimate test. GoECart's Bridgeport, CT-based headquarters had to be evacuated for four business days with no power but thanks to the company's software-as-a-service model and extraordinary efforts of the customer service team, all client-facing software systems maintained 99.9% uptime and no support case service level agreement (SLA) was violated.
James McDougal, GoECart's Director of Operations, added, "I am very proud of the team and all that we accomplished last year, which is testament to GoECart's culture of innovation that values a passion for results, hard work, empowerment and initiative, teamwork, and open communication. We pledge to carry this work ethic into 2013 and beyond."
"From our perspective this was the most successful Stevie Awards for Sales and Customer Service yet," said Michael Gallagher, president and founder of the Stevie Awards. "Not just because of the increase in the number and variety of entries, but in the extraordinary quality of the entries. Judges have told me how impressed they were with the success stories they reviewed this year. All of this year's Stevie Award winners are truly deserving,"
About GoECart
GoECart® provides integrated, on-demand ecommerce solutions that empower retailers to sell more goods and services more efficiently. GoECart's flagship, all-in-one ecommerce suite, GoECart 360™, combines a powerful ecommerce storefront with multi-channel order and inventory management, fulfillment, CRM, and much more. GoECart 360 enables merchants to sell across all major customer touch points. GoECart's comprehensive ecommerce technology solutions offer the ultimate in reliability, scalability, and flexibility demanded by the world's busiest ecommerce sites.
About The Stevie Awards
Stevie Awards are conferred in four programs: The American Business Awards, The International Business Awards, the Stevie Awards for Women in Business, and the Stevie Awards for Sales and Customer Service. Honoring organizations of all types and sizes and the people behind them, the Stevies recognize outstanding performances in the workplace worldwide. Learn more about The Stevie Awards at http://www.StevieAwards.com.