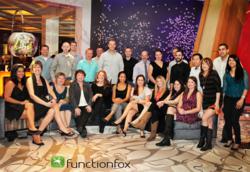 Our team is what makes FunctionFox successful – and that's always worth investing in.
Victoria, BC (PRWEB) February 25, 2013
76,000 TimeFox users have tracked 98 million hours in 2.4 million projects since 2001. For 2012 the FunctionFox team set and exceeded aggressive growth targets. As reflected in the FunctionFox survey released in January we also feel optimism in the creative industry at this time. http://www.functionfox.com/creative-industry-outlook-2013/
"2012 was a big year for our company," says Solveig McTrowe, VP Customer Relationships at FunctionFox, "We knew that if we were going to meet our growth targets, we all had to be on board 110%. So we chose a reward that would make the hard work worthwhile for the whole team – a trip to Vegas for the everyone and their partners.
The culture at FunctionFox promotes collaboration and communication – that combination led to the success of goals being met and ultimately ensuring a better product for customers going forward.
"Our team is what makes FunctionFox successful – and that's always worth investing in," says Corina Ludwig, President at FunctionFox, "Everyone had a great time in Vegas - we're going to be talking about it for a long time to come."
About FunctionFox
FunctionFox is the leading provider of time and project tracking software for small creative companies. TimeFox, its web-based timesheet and project management software, is the number one ranked time-tracking system in North America. Graphic design, advertising, communications, marketing, multimedia, public relations, and interactive firms all choose TimeFox as their web-based time and project management application. TimeFox is currently used by thousands of customers in Canada, the US, Europe, Asia, Australia and New Zealand.
For more information please visit http://www.functionfox.com or contact:
Corina Ludwig, President
FunctionFox Systems Inc.
#2-415 Dunedin Street
Victoria, BC, Canada
V8T 5G8