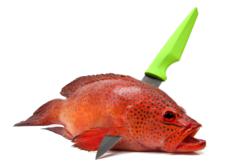 "I absolutely love it," says Phil Wilson, Executive Chef of Thomas Cubitt, The Pantechnicon and The Orange in London. "It is well balanced, light and very comfortable to use with a very fine edge on it. I would be happy to work with it all day every day."
LONDON (PRWEB) February 26, 2013
March 2013 – Edge of Belgravia, one of the world's most bold and innovative chef knife firms, is proud to release its unique line of chef knives at the 2013 International Home + Housewares Show in Chicago, March 2-5. Edge of Belgravia's chef knives are just as much effective cutting tools as they are art for the kitchen. Attending buyers and media should stop by booth # S3671 for bold design and supreme sharpness from London.
Edge of Belgravia launched its first knife series in Europe only a year and a half ago. Since then its bold and futuristic design has rapidly won acclaim.
In 2012 Edge of Belgravia knives had rave reviews from some of the world's leading lifestyle and design blogs, including Gwyneth Paltrow's Goop, as well as from local chefs. Phil Wilson, Executive Chef at Thomas Cubitt in Belgravia, London, exclaimed "I absolutely love it." The knives were also featured in a number of leading magazines including the Monocle and the Fortune Magazine, which rejoiced "Stunning." Moreover, the Ceramic Onyx range was a runner up in competition with Apple at the prestigious 2012 D&AD product design awards.
In March 2013 Edge of Belgravia is officially unleashing its unique and futuristic design, by London designer Christian Bird, to the U.S. wholesale market. The firm is set to slice a good cut.
In Chicago, Edge of Belgravia will not only be offering a flavor of its bold design, a sneak-peek of the new Precision range, but will also be serving inspiring samples of food prepared by celebrity chefs; the first two U.S. "MasterChef" winners – Whitney Miller and Jennifer Behm. The idea is to demonstrate how the knives' unique British design can be used to inspire delight and creativity in U.S. cuisine.
On Saturday 2 March, the first ever U.S. "MasterChef" winner Whitney Miller will be slicing and chopping away with her Edge of Belgravia knives to prepare some unique southern delights. Whitney Miller won U.S. "Masterchef" in 2010. Although having shocked Gordon Ramsey earlier in the final, Ramsey described Miller as"one of the most instinctive, naturally gifted home cooks I've ever come across."
On Sunday 3 March, U.S. "MasterChef" season-two winner Jennifer Behm will use her Edge of Belgravia knives to prepare a spicy pan-seared sea bass with zatar corn and pepper relish. Behm, Miss Delaware 2000, is a food lover and will demonstrate cutting edge slicing with both the avant-garde Ceramic and Damascus series.
Designed with the discerning chef in mind, these knives are sure to spark the Top Chef mentality in the kitchen. The Damascus Steel collection features a blade consisting of 67 layers of high carbon steel with a steel core of Japanese VG-10 super steel from the Takefu Special Steel Factory.
The award-winning ceramic series is made of sintered zirconium oxide forged under 300 tons of pressure. Except for the lightweight and anti-bacterial properties, the principal advantage of the Ceramic knives is that with normal use they retain sharpness for years without sharpening.
http://www.edgeofbelgravia.co.uk
###