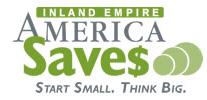 America Saves Week is the perfect time to set a goal, make a plan and save automatically.
Riverside, CA (PRWEB) February 25, 2013
Springboard Nonprofit Consumer Credit Management, Inc. ("Springboard") is pleased to announce the launch of Inland Empire Saves, a regional initiative to encourage individuals and families across Southern California's Inland Empire – Riverside and San Bernardino counties – to take control of their financial future. Inland Empire Saves is part of the broader initiative, America Saves Week, the national campaign that occurs annually to encourage better savings habits among all Americans. This year, America Saves Week is recognized February 25 through March 2.
"Research indicates that over 75 percent of people, who set a savings goal, are more likely to achieve it. Setting a savings goal can be the start to success. In addition, only sixty-six percent of Americans have sufficient emergency funds for unexpected expenses like car repairs or a doctor's visit," said Melinda Opperman, Springboard's senior vice president and the Inland Empire Saves Campaign Coordinator.
"We're excited to champion this important initiative and encourage individuals and families in the Inland Empire region to reduce debt and have an emergency savings fund; it may be the most important difference between those who manage to stay afloat and those who are sinking financially. With a savings account you will feel safer, and often emergencies aren't such emergencies, when you have savings," said Opperman.
Joining Springboard in supporting this initiative is Riverside Mayor Rusty Bailey, who recorded a special video message for Inland Empire residents encouraging individual and families to get involved with this year's campaign. http://www.inlandempiresaves.org/.
"It's never too late to begin good financial habits," said Opperman. "Reducing debt and building wealth will pay big dividends in the end. America Saves Week is the perfect time to set a goal, make a plan and save automatically," said Opperman.
Consumers can join Inland Empire Saves by visiting the website – http://www.inlandempiresaves.org. The website allows consumers to set financial goals, track spending and take control of their financial future.
About Springboard Nonprofit Consumer Credit Management
SPRINGBOARD® Nonprofit Consumer Credit Management is a 501(c)(3) nonprofit personal financial education and counseling organization founded in 1974. Springboard is a HUD-approved housing counseling agency and a member of the National Foundation for Credit Counseling, a national organization of nonprofit credit counseling agencies, and a member of the Association of Independent Credit Counseling Agencies. The agency offers personal financial education and assistance with credit counseling, housing counseling, debt and money management through educational programs and confidential counseling. Springboard is accredited by the Council on Accreditation, signifying the highest standards for agency governance, fiscal integrity, counselor certification and service delivery policies. The agency provides pre-bankruptcy counseling and debtor education as mandated by the bankruptcy reform law. The agency offers nationwide phone counseling services and has locations in California, Arizona, Nevada, New Mexico, Texas, Massachusetts, and South Carolina for in-person counseling sessions. Not all types of counseling are available in-person at all locations, please call for details. For more information on Springboard, call 800-449-9818 or visit their web site at http://www.springboard.org.