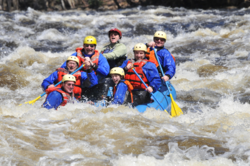 (PRWEB) February 27, 2013
When winter's snow melts, the water on the Millers River rushes over the rocks and ledges in its way, creating unique high-volume rapids that result in one of the best rafting experiences in southern New England. Massachusetts outdoor adventure outfitter Zoar Outdoor takes rafters down the Millers in the first two weeks of April, when the river is at its most exciting. Guests board their rafts in Erving, Massachusetts, and follow the winding river through a deep wooded canyon, until they reach their final destination - the picturesque French King Gorge at the confluence of the Millers and Connecticut Rivers.
At only $59 per person, and running every day from April 1st to April 15th,the Millers River provides a perfect opportunity for adventure seekers to get out on the water celebrate the arrival of spring. The trip starts with a somewhat urban stretch as the rafts pass through Erving. This section serves as a warm-up, consisting primarily of class II rapids. Just as the river leaves civilization behind, it hits the first class III rapid. Then, after a small pool, rafters' skills are tested with a large class IV rapid called The Funnel, which can have waves as big as 6 feet tall at some water levels. In this rapid, the river narrows and the water rushes and leaps over the rocks that stand in its way.
After The Funnel, rafters pull off the river for a picnic-style lunch provided by Zoar Outdoor. In the section after lunch, the river becomes playful, with splashy standing waves and rapids that eventually give way to wide, calm waters as the river reaches the French King Gorge. Here, rafters can go for a swim or just take in the scenic views of the gorge.
The Millers River trip is about more than just rafting, though. It's a trip that reliably provides views of wildlife like hawks and beavers. April on the Millers is an ideal time for spotting nesting ducks by the water. The trip also provides peeks at human history along the banks. Old paper mills can be seen through the woods at times, and rafters can imagine the shores as the home of the Native American Nipmuc tribe which once inhabited the area.