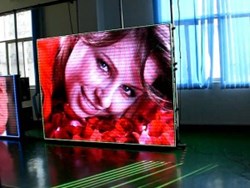 As one of the main providers of this service, Advertising.my now offers more LED based services for all businesses in different business sectors.
(PRWEB) February 27, 2013
Malaysia's leading advertising agency, Advertising.my which has been offering impeccable and top-quality advertising products and services for more than a decade is one of the major players in this segment. From digital advertising, when it was first established, Advertising.my has been actively widening its offerings in many areas of advertising that include internet advertising, SEO services, mobile and SMS advertising while it has grown to offer all types of offline advertising and its related products and services as well.
Throughout the last decade, Advertising.my has produced some of the most compelling advertising campaigns for its clients and partners which are very impactful, drawing the right target market through its remarkable services.
As part of its expansion plan and the future direction, Advertising.my recently announced the launch of their new range of advertising services which are primarily LED-based as well as other services to better and more effectively complement its current set of offerings.
To further provide value-added services to its clients, Advertising.my now provides sticker printing services. This is one area of service which is very impactful used in several types of media which are mostly used in out-of-home advertising. Advertising.my had in the past few months acquired new and high quality printing equipments and they will be used by the in-house production team. By doing so, costing can be kept at a minimum while quality control is carried out to ensure that the printing requirements of the clients are met with the best quality.
Printing services and products offered by Advertising.my will be focused in stickers and banners where media in various shapes and sizes of any scale can be designed, printed and mounted for the clients. Stickers are most suitable for use on table-tops, on poster frames and on taxis and trains as well which are highly visible and effective.
On top of that, the leading agency will be venturing more into the vastly growing out-of-home media, which has in recent years, grew in numbers and popularity. By emphasizing in this market, Advertising.my can now offer more value-added services to add on to its current offering of advertising services in conventional media like television, radio and social media and mobile marketing.
Out-of-home media is known for its accuracy in reaching a specific target market where with the experience and track record that Advertising.my has cultivated in the past few years, the agency is now more than equipped to provide better and more impactful services for its clients to advertise their brand and products on the likes of Billboards, taxi advertising, buses and other out-of-home media. This would include LED digital screens both outdoors and indoors which is another facet of Advertising.my's new products and services.
LED technology is one of the fastest growing technologies which are used by businesses in many sectors. The advertising industry, through the efforts to produce new and more innovative media has already used LED in many areas. For the Malaysian market, Advertising.my was one of the pioneers of this media, bringing in LED options for its clients in the past few years.
To continue offering better and more cost-effective LED services, Advertising.my is now offering some very exciting options through the recent acquisition of this technology in the market. LED digital screens are widely regarded as a highly-visible and impactful media seen along streets and roads as well as mounted on the walls of major spaces like shopping malls and buildings. Over the last few years, Advertising.my had undertaken countless LED-based advertising campaigns which are designed for the highest impact and runs through different scales, ranging from small digital screens used in the public space to larger-scale digital boards that can be used for wraparounds and such.
As one of the main providers of this service, Advertising.my now offers more LED based services for all businesses in different business sectors. This include LED screen rental which can be used for mobility and events. Partners and customers can now rent our LED screens for a short period of time which are ideal for roadshows and exhibitions when needed. These screens are high quality and sourced from only the best manufacturers from Korea, Germany and China.
The new services offered by Advertising.my encompass LED signboard where Advertising.my will assist in content creation and production while the agency is one of the few LED downlight manufacturers in the region. Where this is concerned, through the many years of offering LED-based services, Advertising.my is able to further leverage on this technology to bring better and more effective advertising services to its clients and partners.