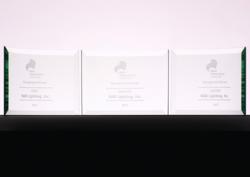 The NGL Competition is the gold standard in the solid state lighting industry and we are honored to have won such a prestigious award for our LED products.
Northvale, NJ (PRWEB) February 26, 2013
RAB Lighting, the leading manufacturer of affordable LED lighting, is proud to announce that it has won three Next Generation Luminaires™ awards for its innovative LPACK52, LGOOSE13 and PLED2X26 LED luminaires. This is the most awards for any brand in the outdoor lighting category.

LPACK52 is a 52 Watt wallpack that reduces energy consumption by 80% compared to the 250 Watt metal halide systems it is designed to replace. It is available in three cut-off options and maintains the look of a traditional wallpack from the front.
The judges were also impressed by the LPACK52's strong light output and glare control.
LGOOSE13 is a 13 Watt decorative LED gooseneck fixture featuring a versatile, direction-adjustable head, designed to replace 70 Watt metal halide and match the architecture of Main Street storefronts and building perimeters.
The judges considered the LGOOSE13 to be aesthetically pleasing with a warm color and low glare. Its low price also makes this luminaire a good value.
PLED2X26 is a high-performance 52 Watt pendant mounted LED downlight. It is UL listed as suitable for wet locations and comes complete with 6", 12" and 18" mounting stems which can be used alone or in combination for a variety of mounting heights, making it ideal for parking garages.
The judges thought the compact, sleek design of the PLED2X26 was an attractive alternative to the rectangular or circular fixtures that are typically used in parking garages. They also thought this luminaire gave good lateral light distribution and was a good value.
Like all RAB LED luminaires, the LPACK52, the LGOOSE13 and the PLED2X26 all feature a 100,000-hour LED lifespan and a five-year bumper-to-bumper warranty.
The Next Generation Luminaires (NGL) Solid State Lighting Design Competition was launched in 2008 to recognize and promote excellence in the design of energy-efficient LED luminaires for commercial lighting applications.
The NGL award-winning products must display exceptional lighting quality and consistency, glare control, application suitability, and luminaire appearance, as well as energy efficiency. Of the 120 products judged (representing 42 manufacturers) just 37 were chosen as "Recognized" winners, meaning the panel of judges would recommend these 37 products to other specifiers.
"The NGL Competition is the gold standard in the solid state lighting industry and we are honored to have won such a prestigious award for our LED products," says Ross Barna, CEO of RAB Lighting. "But the fact that specifiers are recommending RAB LED products to other specifiers – their peers – is very meaningful to us, for that is the true measure of a world class luminaire."
The NGL Competition is sponsored by the Illuminating Engineering Society, the International Association of Lighting Designers and the U.S. Department of Energy.
About RAB Lighting:
RAB Lighting is a leading manufacturer of affordable, durable and energy-efficient LED lighting fixtures. Located in Northvale, New Jersey and founded in 1946, RAB offers well-designed, professional grade lighting through a broad network of electrical distributors. RAB also offers lighting design and engineering services, free of charge, to produce lighting layouts. For more information, call (888) RAB-1000 or visit http://www.rabweb.com.