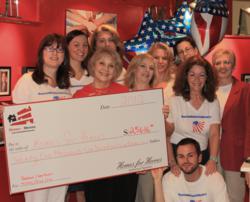 It's a pleasure helping those who help us so much, purchase or sell a home through large rebates to healthcare professionals, teachers, police, firefighters, and military
Asheville, NC (PRWEB) February 26, 2013
Homes for Heroes is a national program that began in 2001, as a way to reward community heroes - Healthcare professionals, Police, Teachers, Firefighters, Veterans and Military.
http://www.HomesForHeroes.com (H4H) has 700+ affiliates in 40 States, with one agent in each market. Rowena Patton of Patton Property Group at Keller Williams, is the #1 Broker Affiliate NATIONWIDE, giving back over $70,000 to mountain area heroes since joining H4H in late 2011.
Rowena heads the most successful real estate team in the mountains, now in the top 100 of Keller Williams international, with $45,000,000 in sales in 2012. Patton states:
"We were looking for a way to give back to the community at the beginning of 2012, and I was inventing a system of community rebates when I came across Homes For Heroes, this program that is designed to take care of heroes purchasing or buying a home, giving them 25% back from our commission - equal to $1,500 savings on selling or buying a $200,000 home for example. Heroes save 0.75% of the price of ANY home on the MLS. There is also a bevvy of friends of heroes that offer discounts non-real estate related, pulled together by the lead affiliate. My team are an amazing group of individuals who love dealing with local heroes.
Says Ruth Johnson, President of Homes for Heroes:
"Rowena… I follow all that you do and I want to say how proud we are to be affiliated with you. You are a true professional and an amazing person. Thank you for the affiliate referrals you have given to HFH and most of all Thank You for the fabulous service that you provide to heroes!"