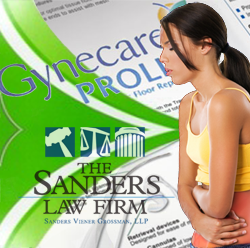 Mineola, NY (PRWEB) February 25, 2013
After a six-week long trial, an Atlantic County, New Jersey jury rendered a $3.35 million dollar verdict to Plaintiff Linda Gross re: Gross v. Gynecare, Inc., Superior Court of New Jersey, ATL-L-6966-10. Mrs. Gross, a 47 year old nurse from South Dakota, sued Ethicon, a Johnson & Johnson subsidiary for serious injuries she sustained from its Prolift mesh that was implanted in 2005 to treat Pelvic Organ Prolapse. This is the same product that Ethicon withdrew from the market several months ago after the U.S. Food and Drug Administration (FDA) announced that the placement of a Transvaginal surgical mesh for Pelvic Organ Prolapse repair posed "greater risk than other surgical options".
Thousands of women have received the implantation of Ethicon's Prolift mesh and many of them have had or are undergoing additional corrective surgeries to remove the Prolift mesh and repair the damage induced from it as well as negate some of the complications that arise from the mesh defect which are debilitating and extremely painful.
The Sanders Firm (Sanders Viener Grossman, LLP) is currently working on behalf of more than 3,500 women who have sustained injuries from Transvaginal mesh implants for Pelvic Organ Prolapse (POP) and Stress Urinary Incontinence (SUI) manufactured by Ethicon, a division of Johnson & Johnson (MDL 2327) as well as C.R. Bard (MDL-2187), American Medical Systems (MDL-2325), Boston Scientific (MDL-2326) , Coloplast (MDL-2387), and others. Victoria J. Maniatis, an attorney at The Sanders Firm representing Transvaginal Mesh plaintiffs, was appointed by Honorable Chief Judge, Joseph R. Goodwin, to serve on the Plaintiffs' Steering Committee in the Multi-District Litigation (MDL) in the United States District Court, Southern District of West Virginia. "Our team of attorneys has done extensive work for women across the country who have unfortunately been injured by these Transvaginal mesh implants and have gone through excruciating pain," says Maniatis who represents not only cases filled in the MDL but in the mass tort in state court New Jersey as well.
The Sanders Firm is a National Law Firm with almost fifty attorneys, one-hundred and twenty staff members and clients in all fifty States. For the past forty-three years, The Sanders Firm has successfully represented thousands of victims of defective drugs and medical devices with recoveries of over $500 Million for their clients. For further information or press inquiries, contact Sanders Viener Grossman, LLP by calling 1-800-FAIR-PLAY, online at http://www.thesandersfirm.com or by email pr@thesandersfirm.com.