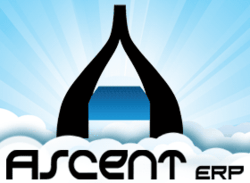 AscentERP is a comprehensive enterprise solution for manufacturing and distribution businesses
Somerville, NJ (PRWEB) February 28, 2013
AscentERP today announced it has been named recipient of the Salesforce AppExchange Customer Choice Awards for Enterprise Resource Planning, as selected by salesforce.com customers. In receiving this award, AscentERP joined all the winners in receiving recognition for their ability to take customer success to new levels. Built using the Salesforce Platform, AscentERP is immediately available for test drive and deployment on the AppExchange, the world's leading business apps marketplace, at http://www.salesforce.com/appexchange/.
AscentERP was built to support warehouse and production floor employees with three key principles at its foundation - flexibility, sustainability, and extensibility. AscentERP has taken these principles and applied them to areas of the product that are traditionally considered to be rigid, such as order management or inventory and production tracking and management. Furthermore, by leveraging the power of the Salesforce Platform, AscentERP goes beyond the ERP basics to deliver the features that customers need in an ERP app, such as financials, multi-carrier shipping, advanced sales analytics, and many more.
"Companies of all sizes turn to the AppExchange as the world's leading business apps marketplace to extend the benefits of the cloud throughout their organizations," said Ron Huddleston, senior vice president of ISV and Channel, salesforce.com. "AscentERP taps into the power of social and mobile cloud technologies to transform the way companies connect with customers, partners and employees. We congratulate AscentERP on being selected by customers as a leader in ERP and applaud their ongoing commitment to delivering customer success."
"Nothing is more satisfying to a business owner than praise from customers. The holy grail of IT and business process has been, is, and always will be alignment. AscentERP is constantly working to innovate the business process. We continue to create the most extensible, sustainable and flexible cloud based business system in the world. Our brand, our product and our people continue to stand out among our industry peers as distinctly being able to keep moving into the future and to keep generating differentiating value for our clients and our partners. Our business is sustainable over the long term and fueled by one of the world's most attractive high-growth markets and technologies. As our business realizes continued growth, we will continue to focus on these core values by mastering the basics," said Shaun McInerney President, AscentERP.
Chris Kenny, Vice President, Chambers Gasket commented, "We have successfully implemented Ascent ERP to achieve significant productivity gains in our back office and manufacturing functions. When combined with Salesforce CRM and FinancialForce we have a true ERP in our Salesforce environment with the ability to analyze performance from quote to invoice."
The Enterprise Resource Planning category is one of 13 separate categories recognized by Salesforce AppExchange customers. The AppExchange Customer Choice Awards recognize AppExchange partners who have had excellent user reviews in a specific calendar year. They are awarded based on user-contributed reviews and do not reflect the opinions of salesforce.com, its employees or partners.
About Ascent
Ascent is the most complete solution for enterprise and manufacturing resource planning. Built natively on the Salesforce Platform, Ascent does it all! It is the most cost effective and time efficient solution for demand flow technology and warehouse management.
Customers range from fortune 500 companies to start up organizations.
About the Salesforce Platform and the AppExchange
The Salesforce Platform is the world's most trusted and comprehensive cloud platform for building social and mobile cloud apps. It powers Salesforce CRM, more than 2.3 million custom apps built by customers and more than 1,700 apps developed by partners in its ecosystem. Social apps for business built on the Salesforce Platform can be easily distributed and marketed through salesforce.com's AppExchange.
Salesforce, AppExchange and others are trademarks of salesforce.com, inc.