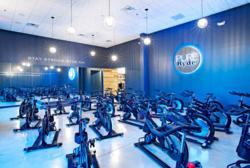 Fitness is an authentic part of Austin's lifestyle and PureRyde offers a unique experience that locals will crave
(PRWEB) February 27, 2013
PureRyde co-founders, Kelle Ilitch and Laura Cronberger, have revolutionized the indoor cycling scene in Austin by mixing a high-energy regime with top inspirational coaching. PureRyde is situated in the heart of the city and at one of the newest retail locations at Gables Pressler. Occupying 2,500 square feet of high-end, organic studio space, PureRyde's cutting-edge bikes provide an authentic burn, build and lengthen riding experience. This technology allows the bikes to move across three planes of motion, giving clients a true outdoor riding experience while benefitting from a complete full-body workout.
"PureRyde is an excellent addition to our retail and service lineup at Gables Pressler," said Darin Botelho, Vice President of Gables Urban. "Fitness is an authentic part of Austin's lifestyle and PureRyde offers a unique experience that locals will crave."
Working closely with interior designer, Patrice Rios, Kelle and Laura created their boutique fitness studio by incorporating Austin's modern architecture and by using finishes found in the area's natural landscape.
"Our mission is motivationally written on the wall of our studio: To achieve anything requires faith and belief in yourself by using vision, handwork determination and dedication," said Cronberger. "We are dedicated to providing a fun, conceptualized fitness program to Austenite's through our innovative machines and inspirational coaching".
PureRyde offers a variety of sixty minute full-body workout-rides with class times that cater to all. Whether you are an early riser, only have an hour at lunch or prefer an evening sweat, PureRyde has ride times that fit any schedule. Class times range from 6AM to 8PM and are offered multiple days throughout the week. After their ride, guests can take advantage of the spa-like showers and changing facilities equipped with full amenities. Fitness enthusiasts can also shop at PureRyde's boutique which offers top fitness apparel for men and women.
To experience both the mind and body benefits visit PureRyde at 507 Pressler Street, Suite 900, their website at http://www.pureryde.com, or contact them at (512) 474-7433. Like it is said in each class at the beginning and end, Stay Strong and Ryde On!
In honor of their opening, PureRyde is offering a special of 3 classes for $45.
About Gables Urban
Gables Urban is a division of Gables Residential, which specializes in creating successful mixed-use destinations inspired by urban centers around the country. Each development is carefully crafted to fuel the symbiotic relationship between residents, retailers and the surrounding workforce. Focused on in-town developments, Gables Urban capabilities include development, marketing, retail leasing and property management.
About Gables Residential
With a mission of Taking Care of the Way People Live, Gables Residential has received national recognition for excellence in the management, development, acquisition and construction of luxury multifamily communities in high job growth markets. Gables Residential owns, develops and manages multifamily communities and mixed-use developments in Atlanta, Austin, Dallas, Houston, South Florida, Southern California, and metropolitan Washington, D.C. Additionally, it has third-party management operations in the Chicago, New York, Boston, Phoenix, Central and North Florida, and Washington State markets. Gables Residential enjoys a healthy portfolio with approximately 37,000 apartment homes under management, including a corporate-owned portfolio of 54 stabilized communities comprising approximately 13,800 apartment homes. An additional 8 communities are under development/lease-up, comprising approximately 2,500 apartment homes. Gables also has the ability to develop another 2,000 apartment homes through its shadow pipeline of undeveloped land owned. For more information please visit http://www.gables.com.